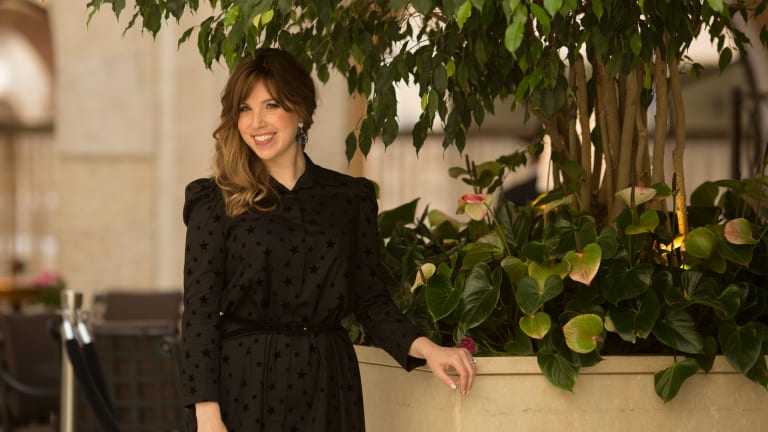 My Jewish Food Memories
I was definitely Sephardi in a past life and Chassidish in another (yes, I believe in past lives and can talk about that later). 
The music, the flavors, the warmth, simply speak to my soul. My neshama is stirred by the spiciness of sabich slathered with schug and the sticky sweetness of the sesame seed candies that glue my teeth together. 
Mile-high potato kugel is the thing my dreams are made of, and malawach and mandel bread make me dance. Literally, get up out of my chair and dance. I've actually passed this gene on to my kids. My husband started laughing when he saw my oldest do a little pirouette prior to dinner the other night.
I was raised in a very hemishe home. What "hemishe" means is entirely up for debate. At its very core, the basic translation is "warm and homey," but like all Yiddish terms, it takes a book to truly define a single word. 
To me, "hemishe" means a feeling of the old country, with a touch of chassidish tendencies. (The phrase "old school" could even work as a more colloquial definition of the term.) We didn't have to travel very far for a taste of the old country, since my parents were actually born in Transylvania and didn't immigrate to Ah-mer-eee-kah until they were in their teens. 
Growing up, our food was so un-American and different from what my friends had. My grandfather's chicken soup was golden colored and rich tasting from marrow bones and chicken feet. I remember my dad sucking the meat (skin and all!) off the chicken foot, toe by toe. Now that's hemishe. My grandmother would knock out the marrow from the bones and spread it on fresh bread like butter, with the kind of care and respect only afforded to the greatest delicacies of the world. Now that's hemishe. And my mother would fish out the bundle of "petrushka" (Hungarian for "parsley"), cut it up and feed it to my sister and I bite by bite (my turn, her turn, my turn, her turn…) – a scene played out in many hemishe households.
My father made a potato kugel that we waited for by the oven door. We always took it out too soon, always ate it while it was too hot, and always fought over the corner piece.
My grandmother made chulent in her Kenmore oven, just like she used to in the village community oven. On Shabbos we would enjoy it, slightly crispy around the edges with homemade kishka that had the fluffiness and sweetness of cake. 
I never had a rugelach or babka before turning 18 and moving to New York, but I did know my way around a kokosh (kind of like the lower, longer, unbraided cousin of a babka), a kremesh (puff pastry, filled with creamy custard and finished with a dusting of powdered sugar) and a dobosh (7-layer Hungarian sponge and chocolate buttercream cake topped with crackling hard caramel). Basically, if it was a dessert and ended with a "-sh" it didn't stand a chance in our house. 
My grandfather's famous potato latkes were the crispiest and fluffiest on the block, our Rosh Hashanah soup was filled with Griz Galuska (Hungarian farina dumplings) and my grandmother's gefilte was a homemade "falsha" ("fake") fish loaf (because it was made from ground white meat chicken), replete with jellied broth.  
Like I said, our food was always different than my friends. Our house even had a different smell. But thankfully, I was never embarrassed by my family's accents, loud voices, (kosher) "kielbasas" hanging from the rafters of our basement, and dinners that consisted of Tort Pasui (Romanian bean puree that took about a year and a day to prep) served with fresh bread. In fact, my American friend Sara Vetter actually started requesting Tort Pasui every Friday when she came over after school. 
We visited Israel a TON growing up and loved the Sephardic food influence, the bright sunny flavors, the fried vegetables, the spice, the heat. I became even more enchanted when I married my husband. All 3 of his sisters-in-law were Israeli, and suddenly this blonde haired, blue eyed, tall Austrian Yekke is talking to me about kibbeh, yaprach and Moroccan cigars. And he put tahini on everything! 
My worlds collided and then exploded. 25 salatim became the new way of life. (As the old Sephardi saying goes: Show a Moroccan woman a table with 3 legs and ask her "what's missing?" "The salads" she'll answer.) 
I fell hard for a two-foot-tall, forever-cooked Yerushalmi Kugel, sliced thinly crosswise, and served with an Israeli pickle. I was like what, what WHAT?!?!? Where have you been all my life?!?!?
This Rosh Hashana, as we look toward the coming year, I can't help but look back. As you can see, this time, has triggered so many food and family memories for me. It reminds me that despite all the culinary innovations, it's those comforting Jewish foods from home that hold a piece of my heart.
Our hope and prayer and blessing to you this new year is that the recipes on this website allow you to cook up new Jewish food memories for your family that are at once sweet and soul soothing for all who come to your holiday table.
Shana Tova U'Metuka!