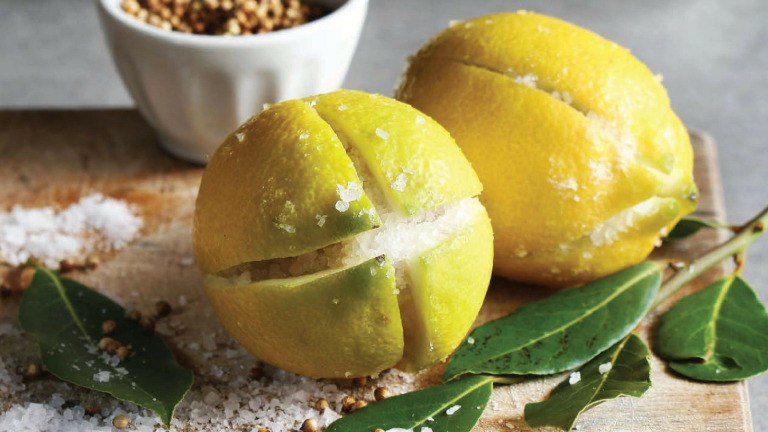 How To Preserve Lemons and How To Use Them
Preserved lemons are to Moroccan and Middle Eastern cooks as butter is to a French chef.  Preserved lemons are essentially pickled lemons, brined in salt and their own juice.  Even though you can get fresh lemons all the time, these salty citrus bombs add a depth of flavor and umami that can't be matched.  
You can find them all over Israel's outdoor markets, but they are easy to make at home too and once you make a batch, they will last up to a year!!!
How To Preserve Lemons
Cut 8 lemons into quarters but leave lemons intact (do not cut through the entire lemon). 
Place 1 - 2 tablespoons of kosher salt into the center of each lemon. 
Fill 1 quart jar with ¼ cup kosher salt and place lemons into jar, squeezing in as many lemons as possible. 
Once jar is filled, top with additional salt and squeeze additional lemon juice until top of jar. 
Cover tightly and allow to ferment in a cool, dry place. 
Shake jar daily for the first 2 weeks until ready to use. 
Store in fridge for up to 1 year. 
5 Ways To Use Preserved Lemons
1. Add to salad dressings or marinades. 
2. Chop some up and add to rice, pasta or Israeli couscous. 
3. Add 1/4 cup to your favorite fruit crisp recipe for added zing.
4. The classic way: add to braised chicken or meat dishes. 
5. Serve with fish or add to fish dishes while cooking. 
If you're still not sure what to do with them, try one of these 6 recipes that show how amazing preserved lemons can be in your regular cooking.