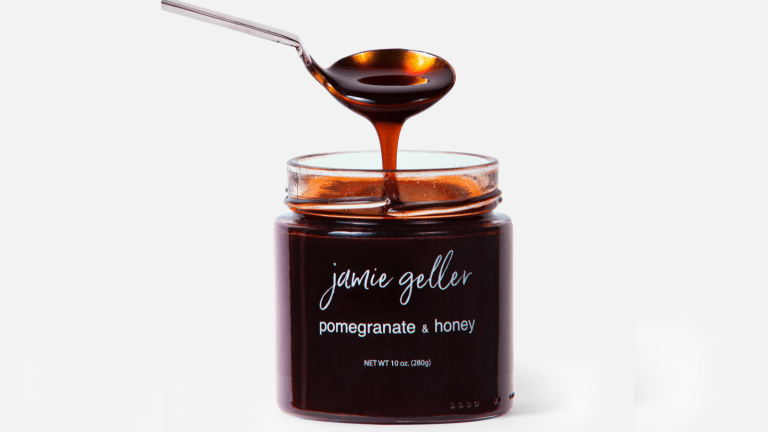 What is Pomegranate & Honey and How To Use it?
The newest addition to our Jamie Geller collection is our Honey Gift Box.  In addition to Raw Wildflower Honey and Silan (Date Syrup), we have included the most exquisite jar of Pomegranate & Honey. 
Our Pomegranate & Honey is 70% pure raw honey from Israel mixed with 30% pure pomegranate juice that has been gently reduced to concentrate its flavors.  Abundant and indigenous to the land of Israel, juice of the pomegranate adds a delicate tang to the sweet honey along with a gentle touch of red to create the most gorgeous hue.  
We love that this honey is similar to pomegranate molasses, a staple in Middle Eastern cooking.  But instead of adding white sugar, we use honey.  This makes our fabulous Pomegranate & Honey a little bit sweeter (less tart) and ever so slightly thicker.  It can be used in everything-add a spoonful to a cup of hot water for sweetened pomegranate tea or try one of our favorite recipes that call for pomegranate molasses and substitute our Pomegranate & Honey, you won't be sorry. 
Recipes To Use Pomegranate & Honey