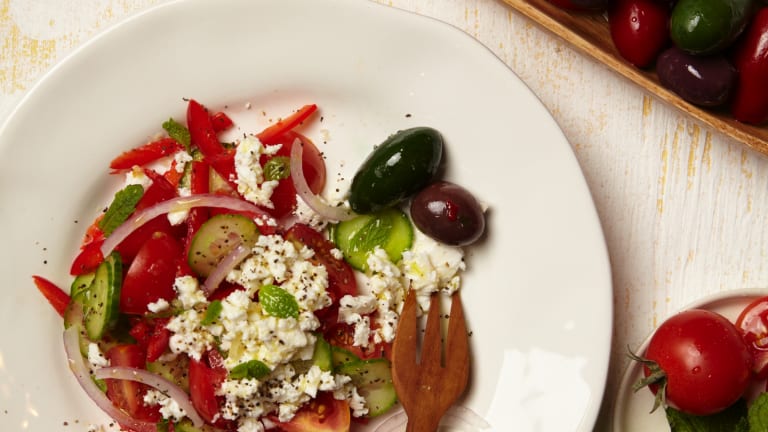 73 Israeli Food Recipes You Need To Try
Yom Haatzamut is just around the corner (in 2021 it will be celebrated from the night of April 14 through the 15th) and Israel is turning 73!!!  Let's celebrate with some Israeli food.  It might intimidate you to try making your own Israeli food, but it is easier than you think and we have got your back.
Prepare an Israeli breakfast so delicious it will transport you to a hotel in Jerusalem eating in the sun. Go all out with a three-course feast, or take it easy with a simple on-the-go Israeli salad in pita. Whether it's making homemade tahini or hummus or tackling Israeli meatballs simmered in tahini, choose from these seventy-three Israeli recipes to create an authentic and fun Yom Haatzamut and celebrate Israel.
Meat Mains: 
These 16 mains will bring you to the streets of Israel with the first bite.  Consider a classic Shawarma or go for this spiced-up version served with pomegranate salsa.  Try your hand at any of our Kabob recipes and don't shy away from a challenge.  The Kataifi Nests with Mauritanian Ground Lamb are made with store-bought nests from the freezer!!  They not only look elegant, but you will WOW your guests with their flavor.
1. Israeli Meatballs Simmered in Tehina
2. Homemade Schwarma
3. Kataifi Nests with Mauritanian Ground Lamb
4. Middle Eastern Roasted Chicken 
5. Roasted Chicken Thighs with Grilled Eggplant and Mint
6. Herb Crusted Lamb Shoulder
7. Sumac Dusted Beef Skewers with Spicy Mango Chutney
8. Beef Moussaka with Matbucha
9. Lamb Shawarma with Pomegranate Mint Salsa
10. Adena Kabab Lamb
11. Kebab's with Pistachios 
12. Lamb Chops on a bed of Couscous
13. Schnitzle and Pititeem Israeli Cous Cous
14. Falafel Crusted Chicken with Tahini Sauce
15. Pomegranate Chicken
16. Mediterranean Braised Beef
Falafel:
Ever think you could make your own falafels from scratch? You don't even have to fry them if you don't want to.  Take a lesson from the chef behind Taim restaurant and use olives or harissa instead of herbs if you like with her Falafel recipe.  You can even make our Chocolate Falafel.
17. Black Olive Falafel
18. Indian Red Lentil Falfel
19.  Oven Roasted Falafel
20. Chocolate Falafel
Salad:
From traditional Israeli Salad to our non-traditional Israeli Fruit Salad, we have everything.  Pack it up for lunch, go out for a picnic or stuff it in a pita to celebrate like the Israelis.  Don't miss the Jerusalem Artichoke Salad pictured above. You won't regret it!!
20. Israeli Salad
21. Israeli Cabbage Salad
22. Israel Pepper Tomato Salad
23. Jerusalem Artichoke Salad
24. Middle Eastern Carrot Salad
25. Zucchini and Dill Salad
26. Eggplant Maple and Soy Sauce Salad
27. Beefed Up Israeli Salad
28. Israeli Fruit Salad
29. Couscous and Cranberry Salad
30. Mediterranean Bulgar Salad
31. Israeli Inspired Leafy Green Salad
Apps, Sides, and Breads:
WOW your guests and make your own pita bread or surprise them with crunchy Mediterranean Lavash Nachos. You can never go wrong with Turmeric Rice and make sure to snack on our Tahini Sesame Kale Chips.
32. Whole Wheat Couscous
33. Turmeric Rice
34. No-Knead Whole Wheat Pita Bread
35. Mediterranean Lavash Nachos
36. Cauliflower Couscous
37. Pita Bread
38. Roasted Eggplant with Tahini
39. Tahini Sesame Kale Chips
40. Cauliflower with Tahini and Silan
41. Zaatar Flatbread
Dips:
Hummus, Hummus, Hummus... can go way beyond chickpeas, try out one of the Hummus recipes below, including the beautiful TriColor Hummus.  Don't forget Tahini, pure sesame paste can be livened up more than you realize!
42. Zesty Walnut Hummus
43. TriColor Hummus 
44. Pinto Bean Hummus
45. Zucchini Babaganoush
46. Edamame Hummus
47. Colorful Tahini
48. Babaganoush with Tahini
49. Matbucha
Dessert:
Yum!! Dessert is a great course to try something new like the this Frozen Limonana Slushy or these Limonana Bars based on the famous Israeli combo of lemonade and mint.   You can also try the festive Kachol V'lavan Cheesecake Squares, which highlight the blue and white colors of the Israeli flag. You can't go wrong with a Bamba snack based Peanut Butter Mousse. If you've never tried Bamba it's the leading snack food produced and sold in Israel according to Wikipedia and it tastes like a peanut butter cheese puff and makes for a delicious mousse.
50. Basbousa Semolina Cake
51. Kachol V'lavan Cheesecake Squares
52. Chocolate Swirl Bread
53. Limonana Bars
54. Israeli Style No Bake Cheesecake
55. Peanut Butter Bamba Mousse
56. Tahini Olive Oil Cake
57. Tahini Pomegranate Caramel Thumbprint Cookies
Fish:
Flavor your fish with Israeli spices, like our favorite Zaatar.  You can even use it on Gefilte Fish.  You can also keep it simple by baked a whole fish.
58. Zaatar Crusted Gefilte Fish
59. Pan Seared Salmon with Sour Cream and Zaatar
60. Mediterranean Baked Trout with Fennel Salad
61. Mediterranean Style Sea Bass
62. Steamed Cod with Olive Tapenade
Shakshuka:
Our next 6 recipes give you a range of ideas for Shakshuka. If you don't already know, Shakshuka is a popular Israeli dish of eggs poached in tomato pepper sauce with spices, which is said to have been introduced in Israel by Tunisian Jews. You can even change things up with a Baked Portobello Shakshuka recipe. The portobello mushrooms acts as the perfect bowl to hold a delicious recipe which is made easy by using premade matbucha salad.
63. Lamb and Swiss Chard Shakshuka
64. Shortcut Shakshuka
65. Baked Portobello Shakshuka
66. Shakshuka with Haloumi Cheese
67. Classic Shakshuka
68. Spinach Shakshuka
In a Pita:
A few more recipes that are all about that pita sandwich. These are some of our favorite Israeli sandwiches you don't want to miss. 
69. Sabich
70. Steak Stuffed Pita
71. Za'atar Chicken Stuffed Pita
72. Arayes
73. Jerusalem Mixed Grill
We hope you enjoyed our 73 recipes for Israel - let us know what you are doing to celebrate this year.
Main image is Beefed Up Israeli Salad
Want to see how Israeli's eat Malawach? Check it out at the Shuk in Jerusalem.