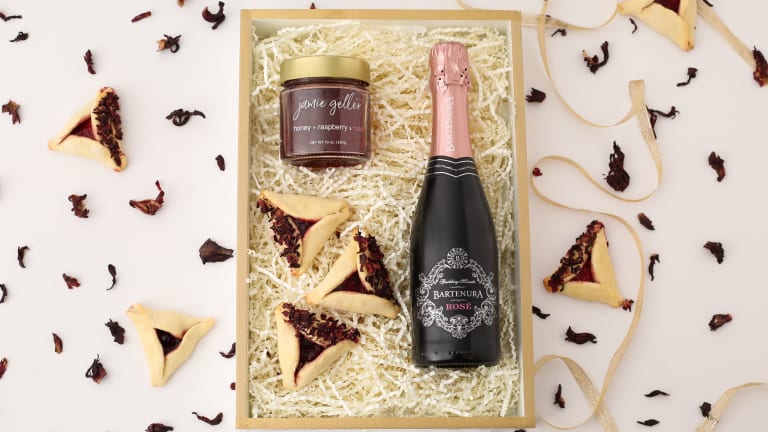 A Honey Bee Themed Purim
This year's Purim theme is all about honey and it's not just because I launched my line of flavored raw wildflower honey or because my raspberry rose honey was calling to be made into sweet hamantaschen, but also because I was inspired by my friend, neighbor and sometimes freelance writer Nechama Eisenman's family costume from 2 years ago and the Wolbe Family featured in our 20 Awesome Family Themed Costumes.  So following up on the success of last year's Israeli Themed Mishloach Manot to go along with my Spice Girls/Guys family costume, I am sharing our Honey Bee themed Purim ideas. 
I'm dressing up as a bee keeper and the little ones will be honey bees, aren't we just the sweetest!
See more pics and all our past family themed Purim Costumes here. 
Tea Time
The Honey + Lemon & Ginger truly soothes the soul so we suggest gifting it with a tea cup, some tea bags and a little bag of Honey Cookies.  We like to place everything on a tray like this Plastic Serving Tray so you can wrap in cellophane with a bow and make sure everything is secure. 
Everything's Coming Up Roses
The Honey + Rose & Raspberry almost tastes like a really exquisite jam with it's delicate taste and texture.  We couldn't resist making Raspberry Rose Hamantaschen adding a little honey to the dough and using more honey for a homemade raspberry filling.  Use edible rose petals for garnish for something extra special and add a bottle of Rose.  I know rose doesn't taste like roses but it sure looks pretty, don't you think?
Use a White Tray for this one and fill with confetti to keep everything place before wrapping. 
Gazoz - Israeli Soda Pop
The Honey + Lime & Mint is bursting with freshness and perfect to make a cup of Israeli Gazoz.  Gazoz is the Israeli term for soda water mixed with a sweet syrup and fruit.  We use honey instead of syrup and add extra mint and lime for the perfect drink.  For this Mishloach Manot we include a bottle of soda water, a cup of fresh lime and mint, and Honey Roasted Nuts with Honey and Lime.   
Use this Gold Mirror Tray to pack this one, add some confetti to help keep everything in place and wrap well.