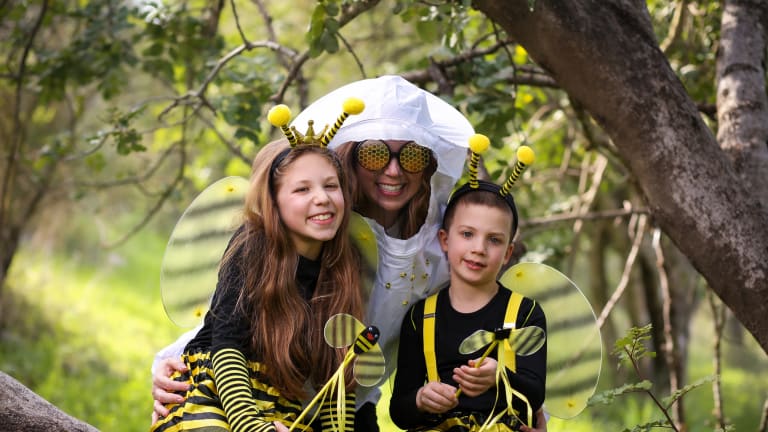 Last Minute Family Theme Purim Costumes
This year's theme was 12 months in the making yet thrown together at the last minute.
Within days of Purim I almost always settle on our theme for the following year. After seeing my town's creativity on display in the streets - that's when my inspiration is freshest. My basic criteria for a family themed Purim is twofold; 1. the entire family has to be on board and totally into the concept and 2. the 100+ mishloach manot must be easy to make in advance, preferably by the kids. I like to set them up assembly line style to pack (while I put my feet up and eat bon bons!). 
Even-though this year's idea was hatched last year - I just bought everything like yesterday. Walk with me down memory lane for some more of my last-minute, easy-to-find or easy-to-make, fast, family-friendly, themed purim costume and mishloach manot ideas.
2012: ISRAELI
The Purim before our aliyah we channeled our moshav living brothers and sisters and gave out falafel, hummus and pita.
Click here to learn how to make a unique Israeli menu for Purim.
Flip through our collection of Israeli recipes here. 
Tri Color Hummus and Pita Crisps makes for a great Israeli themed Mishloach Manot
2013: WHERE'S WALDO
Our first year in Israel we went all red and white with Waldo and Wenda costumes and canes and gave out red + white themed mishloach manot consisting of a cheese sandwich (ketchup on the side), a can of coke and candy canes.
Here's a handy dandy printable for your Waldo themed Purim card. 
2014: STILL LOOKING FOR WALDO
We repeated since all the costumes still fit. Hubby was so proud of my first and last display of frugality.  We gave out peppermint chocolate bark (see my picts and tips for perfect bark right here) or you can also make Chocolate Peppermint Cookies or Homemade Peppermint Marshmallows or even Cupcakes with Peppermint Frosting.
2015: ASIAN 
With the girls wrapped in kimonos and the boys in ninja gear, we delivered sesame noodle salad in Chinese take out containers with chopsticks.  (I subbed some of the carrots in this recipe for noodles and added julienne cucumbers for good measure.) 
2016: HAWAIIAN
The boys channeled their Hawaii 5-0 alter egos and the girls donned hula skirts and lots of floral accessories when giving out Hawaiian Punch, tropical fruit salad and leis to everyone.
For customized cards and a Hawaiian themed Purim menu click here. 
2017: FAMILY FOOTBALL
We went all in for Hubby's Raiders - turning our round little butterball into a football and I got to finally call the shots. We gave out hot dogs and a bottle of beer or can of coke depending on the recipient.
How-To Dress As a Family Like Your Favorite Sports Team for Purim:
My Purim Party Sporty Seudah Menu: 
8 Easy DIY Sports Themed Mishloach Manot: 
2018: PIRATES
One of the easiest themes to accessorize, pirate paraphernalia is like, everywhere. With eye patches and bandanas, vests, and hats, belts made from fabric I bought at the store it took me 1 hour of shopping to pull this costume together. I bought extra fabric to make pouches of gold coins (love that they sell Chanukah gelt year round) which I am spiking with ring pops, candy bracelets and necklaces for mishloach manot. (This should keep the dentists in business.)
If you've got more time than me peruse these Rum inspired recipes:
And if you've got all the time in the world extend your theme to the Purim seudah with this Pirate Purim Party.
Shiver me timbers! Don't let thee idea of a theme overwhelm ye or hold ye aft. What's most important to remember is that thee spirit of liveliness and fun on Purim is unparalleled on thee Jewish calendar. If thar were ever a day to "let loose" and just be Jewish, t'is it!
Yarr! Happy Purim
(And if you want to know how I became fluent in pirate speak overnight click here.)
2019: CHASSIDIM
This is a classic Purim look we have never done and I see no good reason to avoid it.  Plus it gives me a chance to flex my yiddish on the holiday card.  The costume is readily available, easy to wear and the accompanying themed mishloach manot ideas are endless.  
For mishloach manot you can create a cute care package featuring a 1/2 quart of cholent or chicken soup along with a challah roll or classic kugel with a card wishing everyone "Ah gitte, gezinte, freilichin Pirim fin der gantzeh mishpoocheh".  
2020: MARATHON RUNNERS
While custom printed T-shirts are a bonus, marathon bibs (I just learned that's what they're called -- who knew?!?!?) can be pinned onto any sport-t for an authentic costume.  I'm using the marathon bibs for my mishloach manot cards too.  I worked with the talented Eliana Thalheim from Flash of Design and my neighbor and favorite creative copywriter Nechama Eisenman to personalize our messaging.  Please feel free to download our template for your family.  (I changed "TEAM GELLER" to "HAPPY PURIM" and left a space for you to customize and insert your family photo.)
always be sure to secure those laces before a run
The girls aren't far behind
High fives for a job well done
All smiles. See the Gallery below for more!
The best thing about this theme is the simple, easy to prep ahead, mishloach manot, check out our Marathon Themed Mishloach Manot here. 
2021: The Real Spice Girls and Guys
Inspired by the popular girl group from the 90s, we're literally a spice from my Jamie Geller Spice Collection.  We all put on aprons and will wear our favorite spice around our necks. We paired our costume with Israeli themed mishloach manot. 
This costume is the ultimate last-minute idea. It cost us $10 to print the spices, a quick trip to the print store and we were good to go. 
Now granted, not everyone wants to be a Jamie Geller spice (don't worry I'm not offended. You don't gotta wear 'em you just gotta buy 'em 🙃) but you too can recreate this idea at home with black clothes, aprons and poster board sized spices of your choosing.
I actually got the idea from googling 'spice girls Halloween costumes' and saw a group of girls each dressed as another McCormick spice. The pigtails was our "original" addition for extra cuteness (making us feel like we actually dressed up for something).
𝑻𝒉𝒐𝒖𝒈𝒉𝒕𝒔 𝒐𝒏 𝒕𝒉𝒊𝒔 𝒄𝒉𝒆𝒂𝒑, 𝒒𝒖𝒊𝒄𝒌, 𝒅𝒐𝒂𝒃𝒍𝒆 𝒄𝒐𝒔𝒕𝒖𝒎𝒆 𝒘𝒉𝒊𝒄𝒉 𝒅𝒐𝒖𝒃𝒍𝒆𝒔 𝒂𝒔 𝒂𝒏 𝒂𝒅𝒗𝒆𝒓𝒕𝒊𝒔𝒆𝒎𝒆𝒏𝒕?
2022: Honey Bees
I was inspired by my friend, neighbor and sometimes freelance writer Nechama Eisenman's family costume from 2 years ago (as well as the cutie Wolbe Family). It felt fun for boys and girls alike and easy to pull off. Just don't hold your breath for Hubby in a tutu (ain't happening!!!). I bought my beekeeper hat-shirt one piece from amazon (I thought the full suit was a bit much and would have looked funny with a skirt on top!), but you can always just get away with the hat. The hat and big galoshes are key, everything else is secondary. And for the kids there is absolutely NO shortage of bee accessories online and locally - from wings to wands, suspenders to sunglasses, socks, skirts, headbands, tights and more. This felt like my easiest last minute costume ever. 
Browse all the photos from our unBEElievable photo shoot. 
Mishloach Manot felt the easiest this year. I paired my flavored honey collection with tea and homemade honey cookies. (I also have rose and gazoz options with custom hamantaschen and candied nuts for you to peruse). For a cheaper, no-mess, no-fuss option stuff a disposable paper hot cup with a honey stick, tea bag and store-bought honey cookies. Use the lid as your cover and wrap a family photo around the outside as a sleeve. (Extra points for not having to mess with ribbons or cellophane!).
Click here for 21 more awesome family themed costumes and matching mishloach manot ideas. 
Happy Purim!