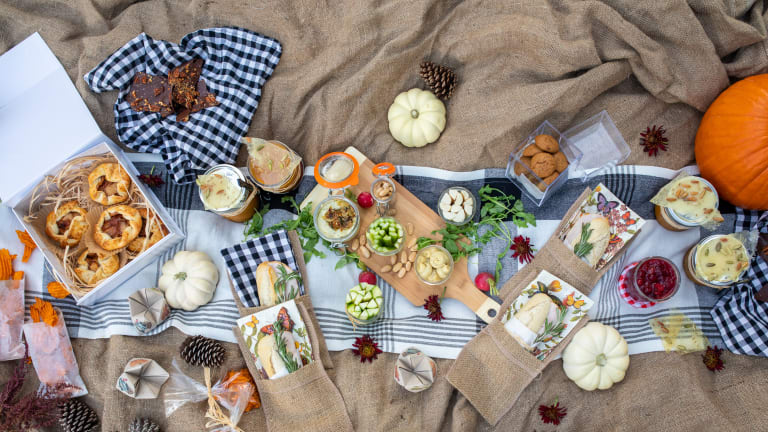 Easy Fall Thanksgiving Picnic
When you live in a city where the seasons don't change and its summer all year long, there's a part of you that longs for the auburn leaves of fall and chill of a winter's night. So together with a burlap sheet, acorns collected on a road trip down the east coast a few weeks back you create the hallmark atmosphere of a Thanksgiving's Autumn even if it's in your own sunny backyard.
With a Thanksgiving picnic you can spend more time with those who you are most thankful for and less time prepping, serving and cleaning up after. 
How to Make a Thanksgiving Picnic
1. Pack lightly
Choose a large basket or ice bucket with handles to transport your picnic fare. I packaged all my food in ready to eat containers or disposables. Soups were wrapped with twine inserted with a spoon.  Sandwiches wrapped in parchment paper.
2. Find a spot
Find a beautiful quiet spot and roll out your blanket or burlap sheet on the grass. Lay out all your food buffet style and let everyone help themselves while you lay back relax and savor the moment.

This menu is a fun alternative to a traditional Thanksgiving and can work equally well with the leftovers.
For some "thoughtful" entertainment I prepared "gratitude" cootie catchers with sweet messages like "Who made you smile today?" and What are you proud of?"
They make beautiful additions to your Thanksgiving table too, click here to print a Fall Themed Cootie Catcher.
Create memories together with your family and friends with a stress free Thanksgiving picnic.
The menu is kept simple while still being reminiscent of all your favorite Thanksgiving flavors.
Thin slices of onion are slowly caramelized with fresh rosemary and whipped together into the perfect aioli for dipping crudités.
Baguette sandwiches filled with sliced turkey breast are paired with a guava and cranberry chutney, sweet potato chips and cold ginger beer.
Warm pumpkin soup topped with a Fennel and Pumpkin Seed Brittle is served in mason jars for easy transport.
Rustic mini apple tarts, chocolate bark and snicker-doodle.