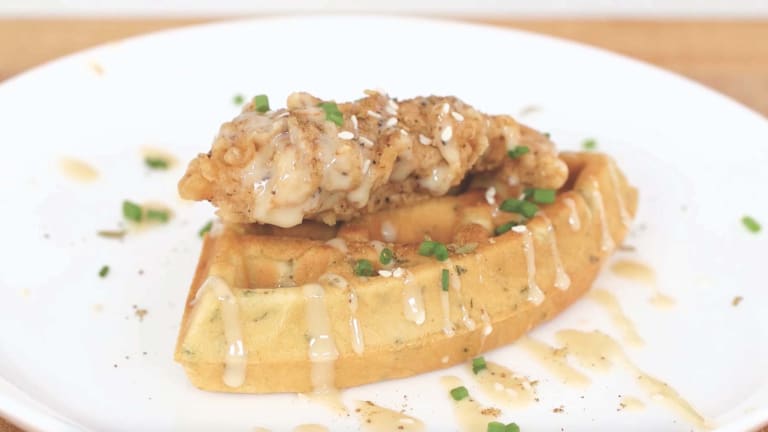 Israeli/Soul Food Fusion Shabbat Menu
In this week's double parsha Tazria-Metzora, we continue the laws of purification.  We learn that when the metzora (person afflicted with leprosy) heals, he or she undergoes a purification ritual by the kohen that includes two birds, spring water, cedar wood, a scarlet thread and hyssop. So I recommend we begin this week's Shabbat menu with some Zaatar. 
Zaatar is one of my favorite spice blends. The combination of the hyssop (or even when they use oregano) sesame seeds and salt are the perfect topping to your pita chips or chicken or fish or almost anything, but it really is best when it comes from Israel, so make sure to stock up on your next trip.
Go all out Israeli with a table full of salatim including hummus and this zucchini dill salad. 
ZAATAR CHICKEN AND FALAFEL WAFFLES
This will be a fun change of pace for your next Shabbat dinner.  The classic Soul food, chicken and waffles is transformed with the flavors of zaatar and falafel. 
SWEET POTATO WEDGES WITH SILAN AND TAHINI
Sweet potatoes are common on all soul food menus, this version is covered with the Israeli flavors of tahini and silan (date honey). 
Watermelon is popular everywhere, who can resist the perfect wedges, kids everywhere love to eat them and let the juice drip down their elbows, but if you need to make something, try these ice pops. 
For more Tazria Shabbat menus click here for Metzorah menus click here.