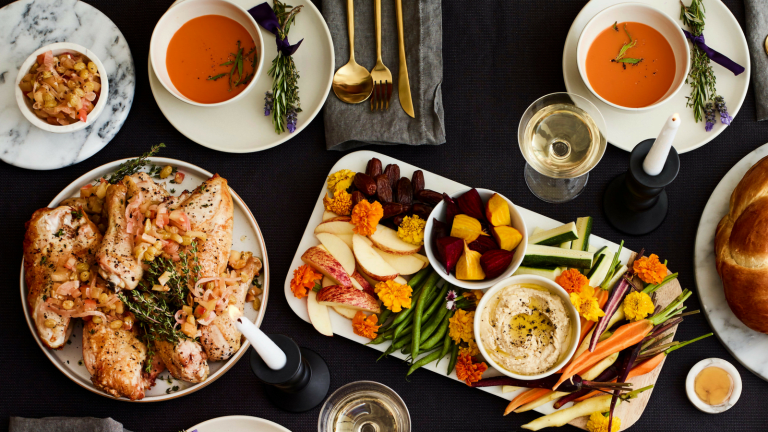 Jamie's Simanim Inspired Rosh Hashanah Menu
I love to share my new Simanim Inspired menu with you every year and it is one of the most popular menus we share every year, so I know you love it. 
I told you all about simanim, the symbolic foods for good fortune on Rosh Hashanah, in this guide and now I took the challenge to make another menu complete with as many simanim as possible. 
Click here to see all my Simanim Inspired Menus from past years and enjoy this new year, new menu. 
This show stopping fresh platter exemplifies the spirit of Rosh Hashanah, all the while keeping things simple and healthy but elegant at the same time.  
Use a simple white platter and make this the edible centerpiece of your holiday table.  
Simple and delicious roasted chicken with cider is perfect as is, or as a savory and sweet canvas for apple chutney.
ChutneySweet and tangy apple chutney are this year's little black dress of your Rosh Hashanah table. Delicious spooned over roasted chicken, piled on challah and adorning carrot soup, this versatile topping is one stop shopping to flavortown. Make a large batch and store in the refrigerator for the holidays or freeze for 2 months.
Marble plates and serving bowls go with everything. 
This colorful side is loaded with vegetables and nutrients. It screams Fall goodness and is amazing at any of your High Holiday Meals. 
Refreshing and delicious! Chilled soups are chic and perfect for starting what is normally a heavy holiday meal. This soup can stand in for a salad or be a part of your Rosh Hashanah Seder.
Keep dessert simple, but elegant with this 4-ingredient apple pie perfect for a crowd.