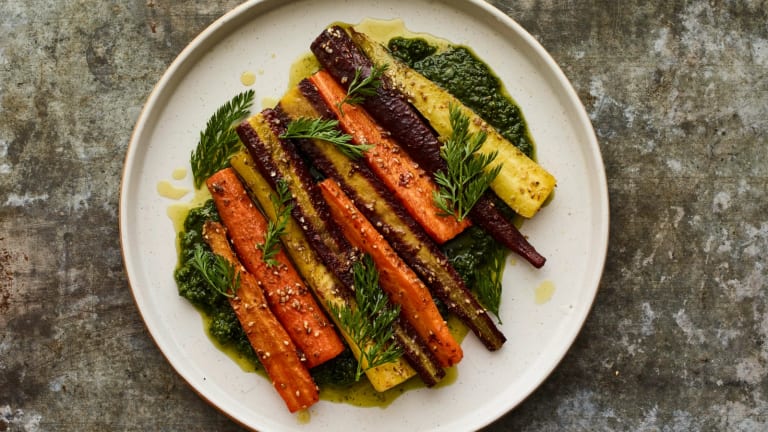 Modern Israeli Shabbat Menu
To scratch the surface of Israeli cuisine is to uncover a melting pot of ingredients and flavors. Israel is a global leader in so many areas and the food and flavors are in headlines daily. Local, indigenous ingredients, combined and fused with modern techniques are the hallmarks of modern Israeli cuisine.
While modern Israeli chefs, wines, ingredients and style have become the vanguard of the food world, classic Israeli food is the foundation for all new innovations. Israel's diverse population, simplicity and frugality are the cornerstones of classic Israeli cooking. We adore time saving tips and takes on classic Israeli cuisine and showcase some of our favorites in this modern Israeli Shabbos menu.
Selection of Salatim -
Serve a selection of salads and spreads to enJOY with your challah.  The spreads must include some type of tahini, hummus, eggplant and Israeli Salad, the rest is up to you. 
All Israeli meals have some form of schnitzel, this one is extra special because of the coating, which is the most popular snack in Israel. 
Rice is always on the table, but if you have the time to make it extra special add some spices and caramelized onions. This classic Israeli side also has chickpeas and lentils, so it can be served as a vegetarian main. 
Zaatar is an Israeli spice blend made up of oregano, sumac, and sesame seeds as well as other secret ingredients. There is nothing like the zaatar in Israel and it can be used to flavor everything from pita chips to roasted carrots, so good. 
Limonana is the lemonade of Israel, becuase it has mint, otherwise called Nana, mixed in. The best is when you get it frozen, but for Shabbat, this baked tart does the trick.