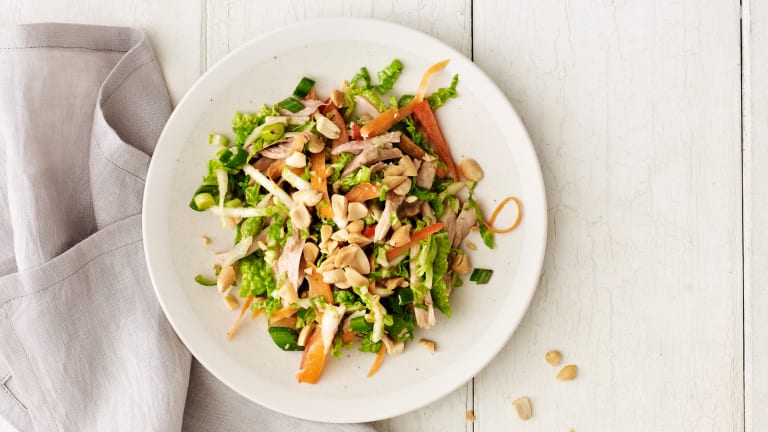 Sukkot Lunch Menus
Sukkot is the holiday of Fall.  Sometimes it's colder than usual, sometimes it's really hot.  Often there are bees and usually there are mosquitos, but unless it's raining it's one of the best times of year to be outside and feel the spirit of the holiday.  
It's also smack in the middle of the month of holidays and the holiday with the most entertaining.  Keeping up with the menu planning is probably the hardest part of getting ready for Sukkot (hopefully someone else is building the Sukkah).  That's why we have tons of Sukkot menu ideas for you on this site, one for every taste and mood.  
These menus focus on the lunches.  They are meant for entertaining, but would be great for dinners during Chol Hamoed too.  
Sukkot Lunch Menu 1 (Meat): The Flavors of Thai
This hot and spicy soup is made creamy with coconut milk.  It's flavor is the epitome of Thai cuisines.  Serve this soup if the weather is on the chilly side.  If you're too hot to think about soup...
When it's a hot sukkot, go for this refreshing chicken salad.  You can use leftover chicken from the night before or a store bough rotisserie chicken to make this flavorful salad quick and easy. 
Serve this marinated steak as your fancy main . Easy to make ahead or cook before serving.  
You can serve a salad with the steak, but if you already had a salad go for the classic Pad Thai Noodles, the thai answer to lo mein.  Skip the tofu in favor of veg like broccoli if you want more green. 
The traditional Thai dessert is basically a coconut milk based rice pudding, if you like rice pudding you will love this dessert.  Make sure to gets a really tasty mango. 
Sukkot Lunch Menu 2 (Dairy): Italian
Bruschetta is basically just a tomato salad served on crispy toast.  A fun start to your Sukkot lunch could even be a selection of salads on toast or Crostini or serve your toast with a caprese salad..
Spinach and Artichoke Spaghetti Pie
You can make a nice lasagna, baked ziti, or stuffed shells, but there is something so elegant about this Spaghetti pie. 
It may be too much, but you can't just serve one dish and both the spaghetti pie and the eggplant parm, freeze well, so I would just make both and know you won't have cook next week. 
Just because I always think you need three things on the plate, make simple zucchini. 
You can keep dessert super simple with an ice cream sundae bar or go fancy with a tiramisu or cheesecake, or these Cannoli Cups. 
Want stories like this delivered right to your inbox? Sign up now for our Jamie Geller weekly newsletter.