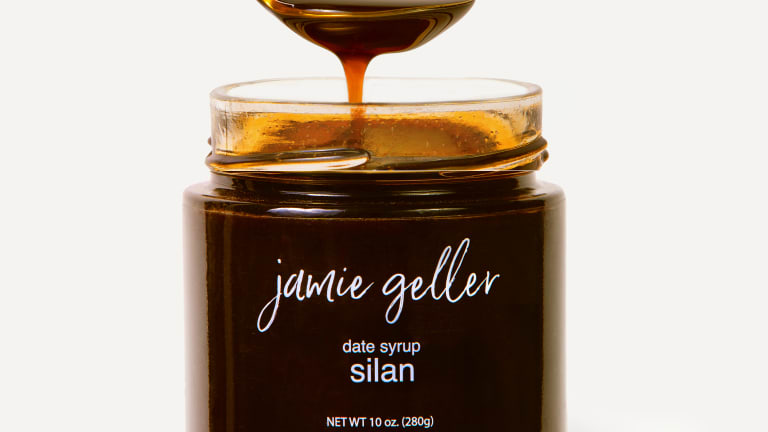 What is Silan and How To Use It?
Did you know that the reference "land of milk and honey" (Exodus 3:8), according to many sources, refers to date honey? Date honey, date syrup or silan, is a staple in Israeli cooking, and adds a rich, delicately-caramel like sweetness to many dishes. 
Silan is the thick syrup extracted from dates, and is often a healthier substitute for white sugar, boasting a low glycemic index. It has a sweet distinct flavor but works in many recipes as a substitute for honey, molasses or maple syrup, giving the dish a unique, not cloying, sweet taste.
Date syrup can and should be made with 100% dates, but beware of many cheaper syrups that add sugar to the mix. Always check the label to make sure you are getting a silan that is made from 100% dates.  
To help you get the best quality silan I just added it to my Amazon collection!  Natural silan, without any added sugar, made exclusively from 100% fresh dates grown in Israel is rich in minerals, vitamins and of course flavor.    
Divine Jamie Geller Silan is part of my sweet and salty Galilee to Negev Seasoning Set, that just happens to be Kosher for Passover and year round. 
How to Use Silan?    
While I personally enjoy silan straight, by the small, sweet, spoonful, I highly recommend it drizzled over oatmeal or yogurt especially when combined with raw tahini. Use it on pancakes and waffles, in shakes, mixed into your coffee, or as a marinade or glaze for chicken, fish, meat and veg. There are so many easy and amazing ways to incorporate silan into your cooking and baking -- for breakfast, lunch, dinner and midnight snacks.  This jar of sticky sweetness is loaded with possibilities. Here are some of our favorite recipes featuring this special date honey. 
This breakfast oatmeal uses the flavors of tahini and silan (date honey) to create a halva flavored oatmeal.   
Before bedtime, assemble smoothies in mason or other resealable jars, refrigerate, then blend with ice for a quick, delicious, and good-for-you breakfast.  
BITTERSWEET CHOCOLATE HALVA SPREAD
We've taken the traditional Israeli candy and turned it into a sweet spread you can put on cookies, bread, pretzels...anything. 
ISRAELI YOGURT POPSICLE'S
Portable, kid-friendly, and truly sweet tooth satisfying.
These granola bars use a little bit of regular sugar, oats, tahini and silan and then you can add anything you want.   
These sweet potato fingers are baked, then glazed with silan and tahini to add an earthy sweetness to this healthy side dish.  
Use silan (date syrup) to reduce to amount of sugar but keep the sweetness to this delicate afternoon treat.   
There are lots of good reasons for tahini to be part of your breakfast. It's high in iron, calcium, and many other vitamins and minerals.  
Straight from the yogurt and shake bars of Israel we bring you this Halva inspired yogurt shake. 
SWEET POTATO TAHINI WITH SILAN
A superb dip/spread made even better with silan. 
Stuff your round challah with a mix of silan and tahini for an unforgettable new favorite Rosh Hashanah Challah. 
Yes, silan goes on this savory roast cauliflower. 
Use silan to give flavor and lock in moisture to this sweet brisket. 
Use silan to make a date flavored BBQ sauce, perfect on grilled chicken. 
Just as easy and delicious as duck sauce chicken but so much healthier. 
Sticky short ribs are better with silan. 
It even works on eggplant. 
Want stories like this delivered right to your inbox? Sign up now for the Jamie Geller weekly newsletter.