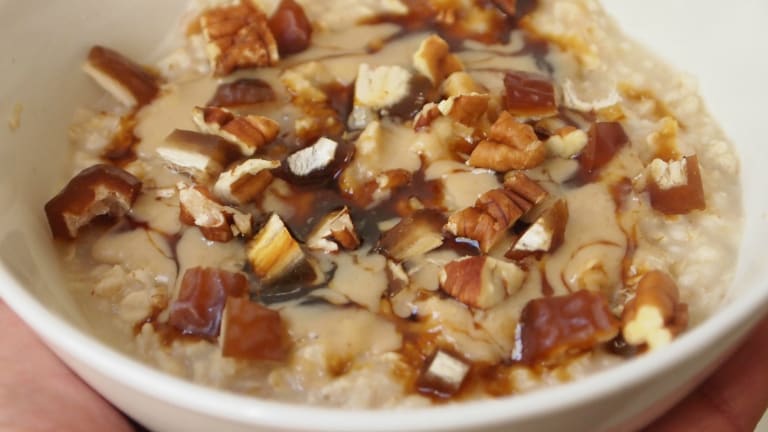 8 Sweet Eats Inspired by Silan
Did you know that the reference "land of milk and honey" (Exodus 3:8), according to many sources, refers to date honey? Date honey, or silan, is a staple in Israeli cooking, and is a great source of sweetness to many dishes. Silan is the thick, sugary syrup extracted from dates, and is often a healthier substitute for white sugar, boasting a low glycemic index. Pour it on top of your yogurt or pancakes, or use it as a marinade for chicken or fish. This jar of sticky sweetness is loaded with possibilities you may have never thought of. Here are some of our favorite recipes featuring this special date honey.   
Related: What is Silan? Recipes + Health Benefits
This breakfast oatmeal uses the flavors of tahini and silan (date honey) to create a halva flavored oatmeal.   
Before bedtime, assemble smoothies in mason or other resealable jars, refrigerate, then blend with ice for a quick, delicious, and good-for-you breakfast.  
BITTERSWEET CHOCOLATE HALVA SPREAD
We've taken the traditional Israeli candy and turned it into a sweet spread you can put on cookies, bread, pretzels...anything. 
ISRAELI YOGURT POPSICLE'S
Portable, kid-friendly, and truly sweet tooth satisfying.
These granola bars use a little bit of regular sugar, oats, tahini and silan and then you can add anything you want.   
These sweet potato fingers are baked, then glazed with silan and tahini to add an earthy sweetness to this healthy side dish.  
Use silan (date syrup) to reduce to amount of sugar but keep the sweetness to this delicate afternoon treat.   
There are lots of good reasons for tahini to be part of your breakfast. It's high in iron, calcium, and many other vitamins and minerals.  
Want stories like this delivered right to your inbox? Sign up now for the Jamie Geller weekly newsletter.