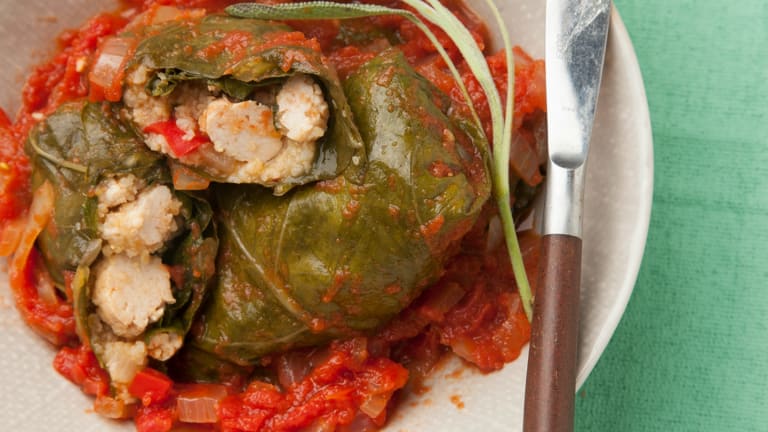 Betting On Winter Greens
Wen I was studying to become a dietitian and cramming for an exam, I followed the mantra "bet on green" whenever I was unsure of an answer on a test. Packed with dozens of vitamins and minerals, it was hard to go wrong then, and even now, I still bet on green. With the winter approaching, most of the colorful tomatoes, corn and squashes begin to disappear off the supermarket shelves, replaced by bright leafy winter greens. Winter greens are green-leafed vegetables, hardy enough to thrive in the colder winter weather. They include chard, collards, mustard greens, escarole, kale and beet greens, among many others. They are loaded with vitamins, minerals and phy-tonutrients, which may help prevent heart disease and cancer.
In 2009, The Center for Science in the Public Interest (a nationally recognized not-for-profit research organization where I used to work) ranked nearly 85 vegetables in order of highest to lowest nutrient content and found kale, spinach, collard greens, turnip greens, and Swiss chard in the top five.
All are good sources of vitamins A, C and K, folate, iron, potassium and calcium. They are especially notable for their vitamin K and lutein content, nutrients that are less common in other foods. Vitamin K is essential for blood clotting and may boost bone density. Lutein, a relative of vitamin A, has been shown to be effective in preventing eye diseases.
Now that you know why we bet on green, let's get in the kitchen! Winter greens are actually some of my favorite vegetables to cook. They are versatile and can add variety to your meals all winter long. Chard, beet greens and spinach are more tender and are best simply wilted or sautéed. Kale, collards, and mustard greens are heartier and are often braised with liquid to bring out the preferred taste and texture. These greens can also be eaten raw, massaged with an acidic dressing or vinaigrette and made into a flavorful winter salad.
To "wilt" tender greens, throw them in a preheated skillet and toss with tongs until they lose some of their firmness and gain some of their natural green color, you may need to add a small bit of water. Mix in a bit of garlic, a drizzle of olive oil and a light sprinkling of salt and you are good to go, or use the wilted greens in baked gratins, pasta fillings, quiches or tarts.
To braise heartier greens, wilt them first in a bit of garlic and oil, water or stock. Simmer until they reach the desired texture. Cook off the excess liquid and serve as a side or add to pasta, rice, potatoes, beans or stew. Hearty greens go well with bold flavors. I like to use smoked salts or strong vinegars to flavor my greens.
Browse through all my favorite recipes featuring Winter Greens: