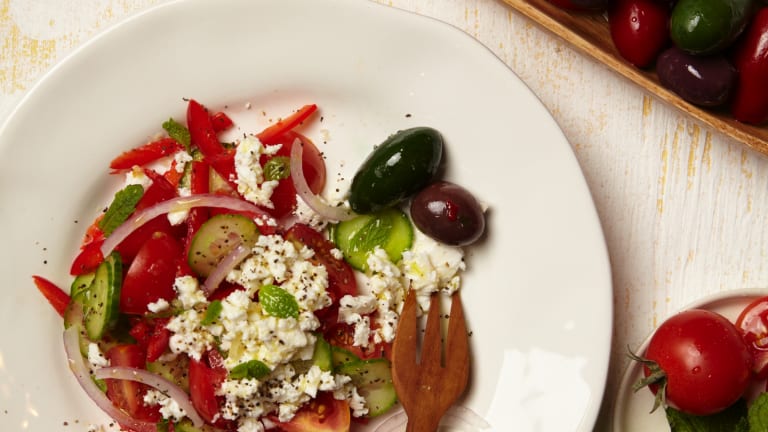 Israeli Salads Without Any Leafy Greens
What makes a salad Israeli?
After all, Israel is the ultimate melting pot of Jewish cuisine. To go even further and peg these salads as Middle-Eastern is so vague since each region from Turkey to Yemen has such a unique flavor profile. In fact, the signature "Israeli" Potato Salad is almost exactly like my Romanian- Hungarian grandparents' chicken salad – go figure. Look, I'm no culinary anthropologist but I have a simple, straightforward way of defining Israeli salads… roll that drum… salads that are commonly eaten in Israel.
There now, that was easy. I'll even go further and tell you my barometer is, as it always has been since my first foray into the kitchen with my first book, my Israeli sister-in-law Chanie. She, together with Hubby, had a hand in inspiring me and teaching me my way around the kitchen. These gems are all inspired by Chanie's table. She diligently hosted us non-stop almost every night for the first two weeks after we landed in Israel. There was always a hot dinner, fresh vegetables, and plenty of her signature salads spread before us. I also love the selection of sliced, creamy and salty cheeses I would find when I shopped for breakfast, lunch and dinner out of her fridge. I love her! Thank G-d the feeling is mutual.
When anyone in Israel tells you they are sending over a salad they mostly mean Israeli Salad. Chopped vegetables – usually just tomatoes and cucumbers but oftentimes with peppers as well, seasoned simply with lemon juice and salt. Notice no leafy greens which are so common in the U.S. I love this practice and have quickly succumbed to it myself because the salad can be prepped WAY in advance and it never wilts, just becomes more flavorful over time. But being me I needed to dress it up, make it more hearty, "beefy" if you will. So here I go adding crumbled salty cheese and fresh mint leaves and my most favorite condiment in the entire world: extra virgin olive oil.
Chanie made this Rainbow Salad only with carrots, well, because it's quicker, why else? I refrained from tasting it Shabbos evening, thinking, uch, who wants another sweet carrot salad? When I helped clean up the first course I smelled garlic and immediately snagged a spoonful. I said right then and there – "This is going onto the website."
For the Israeli Potato Salad I like using small red potatoes with the skin intact and Chanie says I can do it, if I want, but it's not authentic. Her way, the Israeli way, offers a more delicate flavor as opposed to the more rustic American-style potato salads. The recipe here is very similar to my grandparents' Romanian chicken salad, they would add cubed cooked (usually leftover soup or roast) chicken in addition to or in place of the potatoes. Tip! Using a tablespoon or two of pickle juice is a quick and easy way to flavor the dressing. But it is a pungent flavor, so start with 1 tablespoon and taste before adding the 2nd if desired
When Tu B'Shvat rolls around we always make a habit of cooking with the Shivat HaMinim, the 7 agricultural products enumerated in the Torah as special to the Land of Israel. In honor of my move I figured, why wait? Barley, wheat, figs, dates, grapes, pomegranates and olive (oil) are all represented in this salad. The honey is a nod to the land of milk and honey and even the red wine vinegar is a further play on the grape theme. This sweet salad owes its nice crunch to an impulse buy. When I was almost finished shopping for this recipe I spied a generic brand of grape-nuts. There, in big letters on the cereal box it said "Wheat and Barley Nuggets" – it was just calling my name – a welcome upgrade from the donuts that always spoke to me during previous supermarket excursions.
More Israeli Chopped Salads