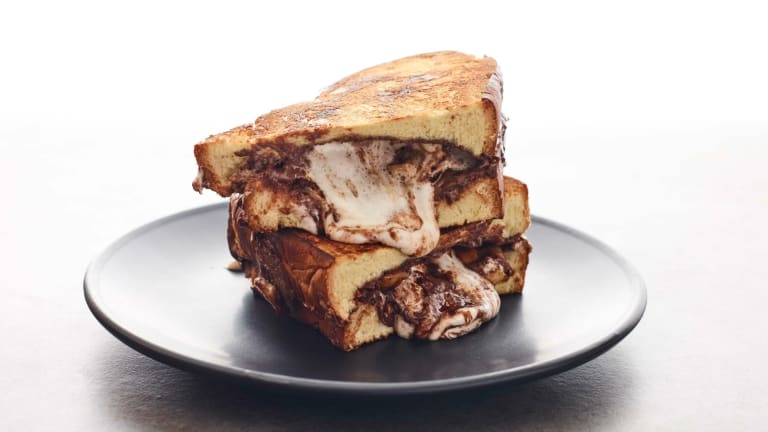 The S'mores Recipes You Must Try Today
Lag BaOmer, the 33rd day in the counting of the omer between Passover and Shavout, is a day of great celebration. This year it falls on May 3rd.  The semi-mourning period of the first thirty-three days of the omer ends with a celebration of the life of Rabbi Shimon Bar Yochai, among other things. The zohar states "[When Rav Shimon died], all that day, the fire did not desist from the house, and no one approached it, since they could not as the fire was all around." As a reminder of Rabbi Shimon Bar Yochai bonfires are an important component of many Lag BaOmer celebrations.
When thinking about bonfires our thoughts automatically turn to s'mores. Gooey toasted marshmallows sandwiched with melted chocolate between two graham crackers they are the epitome of bonfire desserts. 
There are so many ways to prep and enjoy s'mores. The classic version calls for fire roasted marshmallows sandwiched between two graham crackers and a chunk of bittersweet chocolate. Below are some updated versions of the classic. 
The natural pairing of fruit and chocolate inspired this updated version of s'mores.  
If you can't find the soft molasses cookies suggested in this recipe, use regular graham crackers in their place. 
Make it dairy or parve based on the ice cream you choose. 
If a backyard barbecue isn't possible they are also delicious made on a grill pan or in a Panini press.  
Rich chocolate ganache surrounds soft marshmallow fluff and the whole thing is covered in graham cracker crumbs. 
Just as welcome at an outside barbeque as a dessert for an elegant Shabbat dinner, this tart is always a crowd pleaser. 
And don't forget S'mores French Toast! It's another amazing way to use up challah for an oooey gooey decadent breakfast.  
The unlikely combination of s'mores with sweet potatoes is surprisingly delicious. Similar to a Sweet Potato Casserole, with the addition of chocolate.
The marshmallows add an incredible chewy texture and combine two classics: chocolate chip cookies and s'mores.
This easy recipe for chocolatey and gooey S'mores Bark has only 3 ingredients. You can use storebought graham crackers or make your own with this recipe.
Gluten Free Potato Chip S'mores
Super simple for those gluten free people who like that salty and sweet approach. 
Don't miss out on our S'mores challah, let's tuff it. 
Want stories like this delivered right to your inbox? Sign up now for the Jamie Geller Newsletter.