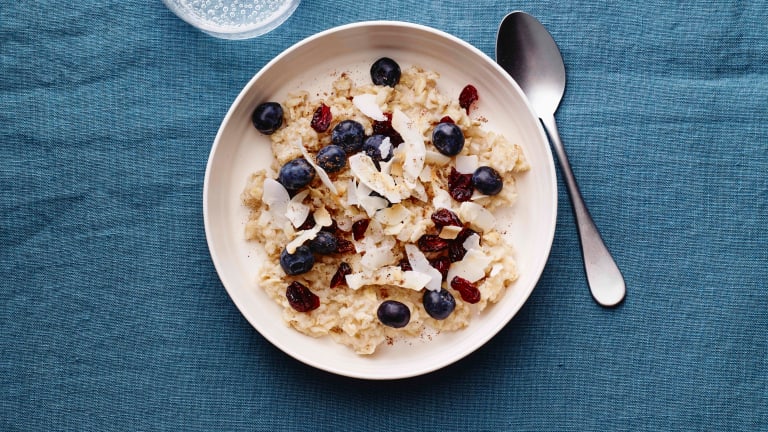 Why and How To Eat Oatmeal Every Day
Everyone knows oatmeal is supposed to be part of a healthy breakfast, but you might not know why.  
So here you go, the specific types of fiber in oats have been found to reduce risk of heart disease.  But that's not all.  Oats have been found to help aid in weight loss and reduce blood sugar levels.  Oats are also loaded with antioxidants, which have been shown to reduce inflammation.  Oats are naturally gluten-free, but they are often manufactured in facilities that contain gluten so always check the package.  
Oatmeal is an easy, make-ahead breakfast that can be a blank canvas for flavor.  As long as you don't add tons of sugar, anything goes and you can enjoy a different form of healthy breakfast every day.  
What is the trick or secret to easy, delicious oats?
For years I struggled with making oatmeal from scratch, I never liked the instant packets because they were loaded with added sugar, but I found it difficult to get the texture right when cooking the old fashioned rolled oats.  When I did get it right it took too much time.  Then I discovered overnight oats.  
All you have to do is combine old fashioned oats with milk in a ratio of 1:1 in a glass jar or container the night before.  Overnight the oats soak up all the liquid and plump up.  In the morning you spoon your oats into a bowl, add a little more milk to suit your preference (some people like it soupy and some like it thick), heat it in the microwave for a minute (or enjoy it cold), add any flavors and topping and dig in.  The best oatmeal you will ever have with the least amount of work. 
If you've never tried making your oats this way, I promise it will change your life. Once you have your big bowl of oatmeal, it's all about the toppings.  
Stick with fresh fruit like blueberries and strawberries for the purest taste, add nuts for a little extra fat and protein.  Add a drizzle of maple syrup or honey for some extra sweetness.  Try cinnamon or cocoa powder and/or vanilla extract or rose water for unique flavors.  Mix in pumpkin puree or applesauce when you have some lying around. 
Browse below for some of my favorite Oatmeal bowl recipes when I want to dress them up a bit more. 
5 Oatmeal Flavor Ideas