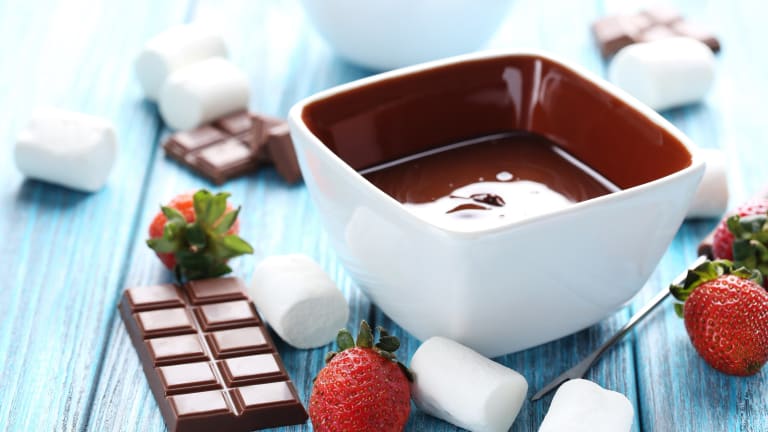 How Do You Fondue? Chocolate Fondue and More
Y'all know my momma isn't much of a cook. Don't worry, she's doesn't mind that I keep reminding everyone. In fact, she would be super insulted to be identified as a "balabusta" - domesticity is like, against her religion.
Even though she tried to build our house without a kitchen (really, that's not a joke!) and hasn't turned on her oven in over 15 years (really, that's also not a joke!) ... when I was growing up, she had 3 signature dishes that were just, other worldly.
A killer salad. She tossed her greens with such love and such patience that a kid could starve while waiting for each leaf to be evenly covered in a shiny coat of the finest olive oil. (30 minutes for a salad?!?!)
Avocado toast. Way before it was en vogue, she was buttering our sprouted grain bread with Avo, a sprinkle of sea salt and a drizzle of her finest olive oil.
Fondue. That was HER thing. A hot pot of chocolate served after homework with fruit for dipping. She always rationalized it as a great way to get us to eat fruit. 
My CHOCOLATE FONDUE is an indulgent ode to my mommy. 
Scroll down for more fondue recipes...
MORE: Get Your Chocolate Fix
For healthier, non-dairy chocolate fondue, just swap a few ingredients:
Coconut or almond milk instead of heavy cream
72% cacao dark chocolate instead of semi-sweet chocolate
What's your favorite food to cover in a luxurious blanket of melted chocolate? Let me know in the comments below.  
How do you fondue?
A fondue supper (or dessert) is a wonderful way for the whole family to enjoy creating and eating a meal together. (Yes, a savory fondue can be a whole meal!) Start with these yummy fondue ideas:
MORE: Healthy Chocolate Fondue?
Sending you all fondue kisses!   
Want stories like this delivered right to your inbox? Sign up now for our *free* JOY of KOSHER Newsletter.