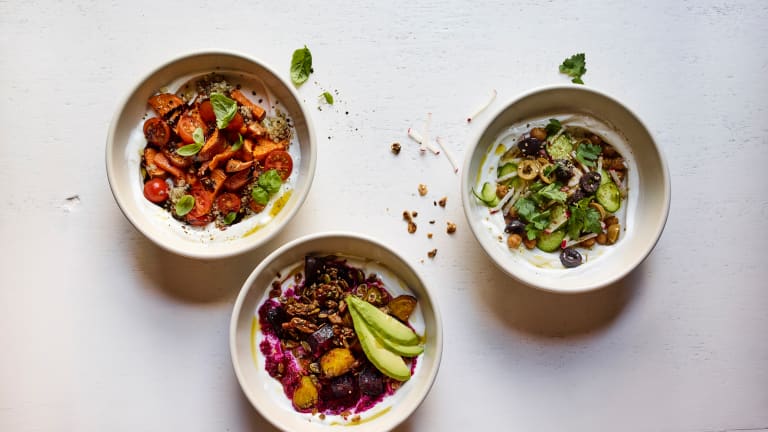 Rethink Yogurt: 6 Savory Yogurt Bowls
This is one trend most of us can agree on. For those still on the fence, I want to remind you that yogurt is neutrally flavored and why not mix it up with savory ingredients? I promise the yogurt police are not coming over, unless it is to give these delicious recipes a try.
The basic rules of a good yogurt bowl are simple. Be sure to start with high-quality ingredients. Always use fresh herbs and vegetables and try to add different textures as either ingredients or garnishes. 
Another great addition to the making of a yogurt bowl is extra virgin olive oil, such as Colavita. We use to roast and flavor the ingredients placed in the yogurt bowls as well as drizzling a bit in the bowl for a finishing touch. If you have no time to make a gourmet yogurt bowl, simply ladle some yogurt in a bowl with a generous glug of evoo, serve with some toasted bread, salt and pepper to taste and enjoy!
Skip the sugar laden yogurts and see how you can turn this high protein snack into a haven for healthy veggies and more. 
Related: Savory Rugelach Dough
LENTILS, CARAMELIZED ONIONS, AND DRIED FIGS 
Make a big batch of caramelized onions and use it on everything starting with this unique yogurt bowl that will really satisfy any time of day. 
BEETS, CARROTS, AND TOASTED HAZELNUTS 
Yes, veggies can be eaten at a breakfast, but this makes a delicious lunch or dinner too.  Feel free to use any veg you have on hand.  
Craving a bagel with all the fixin's, but don't want all the carbs and fat?  Try our bagels and lox yogurt bowl, bagel croutons are optional. 
The beets prepared 2 ways, adds a subtle sweetness to this creative savory take on a yogurt parfait.  
SWEET POTATO QUINOA YOGURT BOWLS
The combo of earthy sweet potatoes, bright tomatoes, slightly crunchy quinoa and sweet, yet acidic balsamic is phenomenal. 
The combination of crispy chickpeas, cucumbers and radishes with the unique herbaceous flavor of za'atar and creamy and tangy yogurt is the perfect definition modern, fresh, Israeli-inspired cuisine.  
Want recipes like this delivered straight to your inbox? Sign up now for Jamie Geller's Weekly Newsletter.