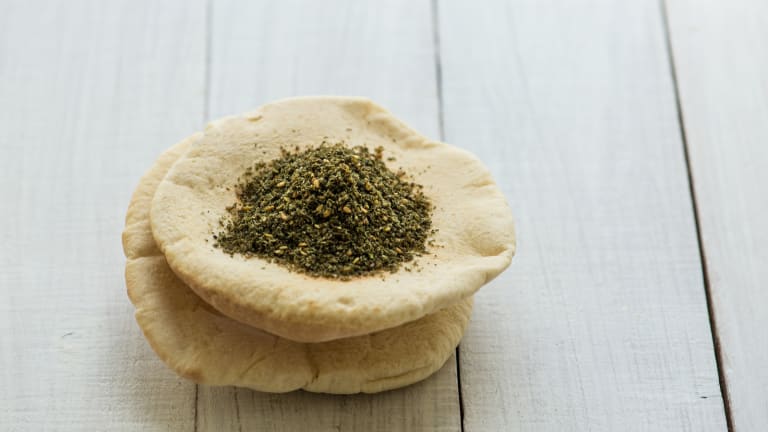 What is Za'atar?
Za'atar is a classic Middle Eastern spice blend that is both tangy and refreshing. Za'atar refers to wild thyme herbs that grow year round in the Middle East. The herb resembles oregano but tastes like thyme. It is thought to be the hyssop (ezov) herb mentioned in the Torah. The dried herbs are added to a spice blend, known as za'atar. Za'atar is generally made from sumac, thyme, roasted sesame seeds, and sea salt. 
Za'atar is quite simple to make at home by combining an equal amount of the spices listed above with salt and pepper to taste. Of course, you can also find it in many supermarkets and Middle Eastern shops, find kosher Zaatar here (it makes a great Father's day or hostess gift).
Za'atar is mostly used as a complimentary spice in Israeli cuisine. It is most traditionally topped on hummus and tahina and also mixed with olive oil and used in a plethora of ways; most notably, slathered on fresh laffa or pita bread. 
Za'atar's earthy, nutty, bright flavors make a great rub for meat and wonderful spice for roasted vegetables. It is also amazing sprinkled on some sliced feta cheese or added to a cheese board with olives, nuts and sliced tomatoes. 
Popular Za'atar Recipes:
ZA'ATAR SPICED CRISPY CHICKPEAS
These crispy chickpeas may become your new favorite snack.  
ZA'ATAR CARROTS WITH GREEN CARROT TOP TAHINI 
When life gives you carrots and their tops, make this Israeli-inspired side, vegetarian main, or mezze (Mediterranean small plate). No more throwing out your vegetable tops — use them.   
It really doesn't matter what you are making, you can find a way to incorporate za'atar and revive any old recipe!   
ZA'ATAR FRIED CHICKEN AND WAFFLES
If you don't have a waffle iron, go ahead and made chicken and pancakes, we won't tell anyone.   
If you want to make this easier, you can use prepared pizza dough and then follow the directions from step 5.  
The combination of crispy chickpeas, cucumbers and radishes with the unique herbaceous flavor of za'atar and creamy and tangy yogurt is the perfect definition of modern, fresh, Israeli-inspired cuisine.