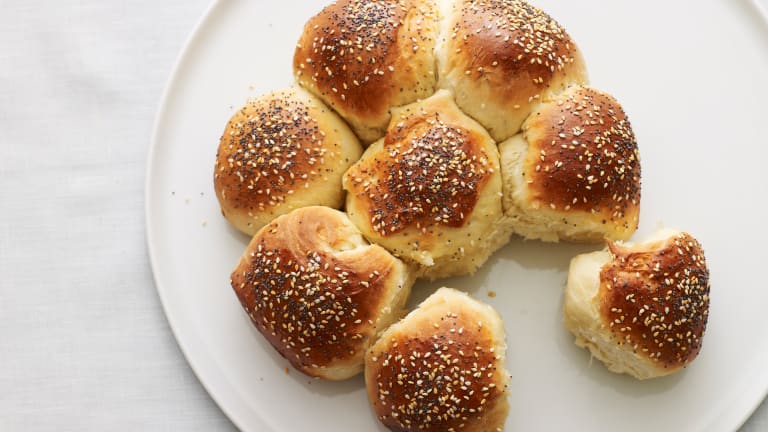 The Best Challah Bread Recipes
It's challah time! 
Some like it cakey, some like it doughy, some like it savory, some like it sweet.  Some stick with their tried and true recipe week after week, like me and my traditional recipe that will put most bakeries to shame. 
When I was writing my cookbook, I had made 20 pounds of challah in one week. DID YOU READ THAT?! TWENTY!!!! POUNDS. Testing sweet and savory "challah" and "challah-esque" recipes.  One of my many goals in life is to see how many different things I can make out of my challah dough, keep reading for those recipes.
Then there are others, like Tamar, she can't stop at one recipe.  She loves to experiment, adding different flavors and textures and mix-ins and changing up the dough to go with it.  
So here are our best, most favorite challah recipes starting with my most famous 6-pound challah (find out why I make so much here) with an old video too! 
This is really my tried and true and our most popular challah recipe. Don't worry if you don't want to make all 6 pounds, the recipe can be cut in half.  But it does take lots of hand kneading.  So if you prefer a more hands-off approach and have 2 days to prep ahead keep reading. 
When the No Knead bread trend was all the rage I knew we could apply the same principles to challah and the result was superb! 
Once you have a big batch of dough you can make all sorts of other baked goods from sweet to savory to specialty, watch the video below for 8 amazing ways to use your challah dough including cinnamon buns, babka, garlic knots and onion rolls (my favres)
8 Unique Uses for Challah Dough
If you're looking to experiment some more try one of our 20 Stuffed Challah recipes, most have their own challah dough recipe but feel free to use those stuffings with these doughs. 
If you have a special diet such as gluten-free or vegan check out our 13 Alternative Challah Recipes. 
A few other can't miss challah dough hacks. 
Individual Apple-Stuffed Challah
Nothing sweeter than ushering in Rosh Hashanah with an individual challah bun bursting with apples and drizzled with honey, perfect for the New Year or any time of year.
Cilantro Scallion Challah Rolls
For those who savor the savory, small, cilantro and scallion stuffed challah rolls courtesy of Tamar will do the trick.
Hamantashen Challah (for Purim)
I'm not waiting for Purim to fill my challah with Sundried Tomato and Pesto Dips – triangles are always en vogue.
Wrapped Brats With Cider Braised Onions
I've made Deli Roll Challah – a total family winner – and Sabich Challah – to die for! but nearly fainted when I saw these Wrapped Brats with Cider Onions, use pretzel challah dough or regular challah dough. Why oh why didn't I think of this first?
Many Jewish women have the tradition to include a prayer for those who are sick or in need of a special blessing along with the separation of challah, Hafrasat Challah. Rabbi Lawrence, explains the how, why and when of the mitzvah of separating the challah.
The internet has made it possible for people all over the world to unite behind the collective power of our prayer. The founders of Aneini created a website and weekly mailing list for this purpose, sign up to be a part of this special group.