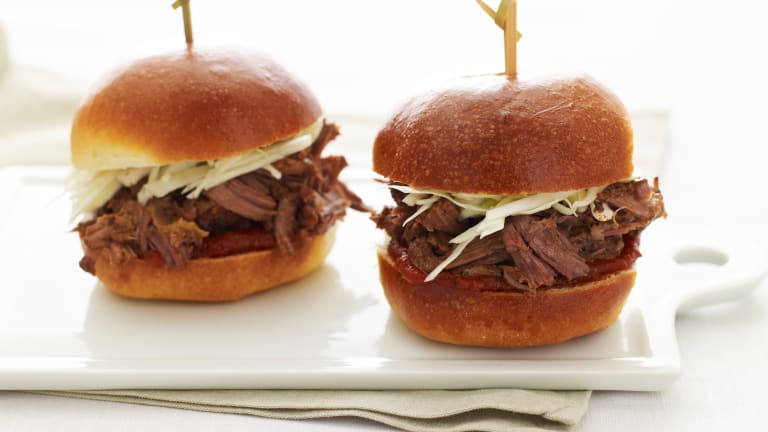 8 Ideas for Turning Brisket Leftovers into Rightovers
To celebrate the launch of our newest project, HOME by Jamie Geller, How-To Courses for Busy HomeMakers I am sharing my 8 ideas for turning leftover holiday brisket into your new favorite weekday dinners. HOME by Jamie Geller is a video course series which offers you the chance to learn from me and my expert friends. Each course includes unique in-depth detailed classes and class materials focusing on cooking, creativity and crafting.
 SIGN UP NOW for our premiere course, Brisket 101.
1. Salads
Brisket Salad? Yup you heard me. Shred and toss with your favorite veg. For a little South-East Asian inspiration start with my Spicy Thai Beef Salad or Thai Chicken (use your brisket!) Salad.
SIGN UP NOW FOR BRISKET 101: A course all about that delicious, sumptuous, melt in your mouth cut of meat which reminds so many of us of our childhoods, whether it was a family dinner or a holiday feast.
2. Sandwiches and Sliders
Pulled Chicken Sliders With Mango Barbecue Sauce
Teriyaki Beef Banh Mi With Sesame Cucumber Salad
Stuffing a bun with leftover brisket is nothing new but nevertheless worth repeating cause it never gets old. Kick it up a notch by topping with crunchy green cabbage like I do with my Short Rib Sliders, or soft creamy avocado like I do with my BBQ Pulled Chicken Sliders. Or take it to the next level by making a homemade Mango BBQ Sauce and Pepper Jicama Slaw or go "Banh-Mi" with carrots, cabbage, radish, cilantro, lime, rice wine vinegar, chili garlic sauce and Sesame Cucumber Salad.
SIGN UP NOW FOR BRISKET 101 and learn how to master simple techniques and methods for no-fail, perfect brisket, each and every time.
3. Tostados and Tacos
Shredded Chicken Tostadas With Spicy Tomato Salsa
Whether folded and filled like my Chicken Tacos or flattened and open faced like these Tostadas with Spicy Tomato Salsa, crunchy fried tortillas and leftover buttery brisket are a heavenly pairing.
SIGN UP NOW FOR BRISKET 101 and receive 10 triple-tested, step-by-step brisket video tutorials including Classic Braised Brisket, Slow Cooker Garlic Honey Brisket and Spice Rubbed Oven Seared Brisket plus simple sides so you can serve a complete and tasty holiday or every day meal.
4. Ravioli
Try Ale's from scratch broth and brisket filled Ravioli or take a shortcut and fill ready-to-boil wonton wrappers with shredded brisket.
SIGN UP NOW FOR BRISKET 101 for anytime, anywhere access to 6 HD video lessons featuring 100+ minutes of close-up instruction.
5. Hash
Turn last night's dinner into tomorrow's breakfast with this Sunrise Hash. Replace all or part of the chicken with brisket.
SIGN UP NOW FOR BRISKET 101 and you'll learn my 3 golden rules for perfect brisket PLUS my secrets for seasoning, creating signature spice rubs, stove top and oven searing, building a braising liquid, deglazing, straining and reducing your sauce, marinating 101 and top tips for using your slow cooker.
6. Sushi
Try this Tricolor BBQ Beef Sushi cause it's cool and crazy and colorful and brought to you by our friend Yosef at This American Bite.
SIGN UP NOW FOR BRISKET 101 for troubleshooting and answers to your frequently asked brisket questions including best methods for slicing and best practices for storing, freezing and reheating – everything you need to know about prepping brisket in advance.
7. Chili
Cause it's really made from all the leftovers, the brisket, the pan juices, the onions (saves you slicing and sautéing time) but you'll feel like you are eating an entirely new dish.
SIGN UP NOW for a BONUS Best Brisket eBook featuring: All 10 recipes demonstrated in the course + 20 more recipes for brisket (Sweet and Sour Cabbage Brisket), sides (Salt and Pepper Noodle Kugel with Roasted Garlic), slaws (Creamy Rainbow Slaw) and leftovers (Brisket Moroccan Cigars, Brisket Latkes) – 30 recipes in all!
8. Pizza
Grilled Pizza With Shredded Chicken And Arugula
Not just for mozz – top with shredded brisket and arugula for a little something different.
SIGN UP NOW to start creating fast, fresh, family friendly food and crafts beginning with "BRISKET 101"…and turn your house into a HOME.
Want stories like this delivered straight to your inbox? Sign up now for the Joy of Kosher Weekly Newsletter.