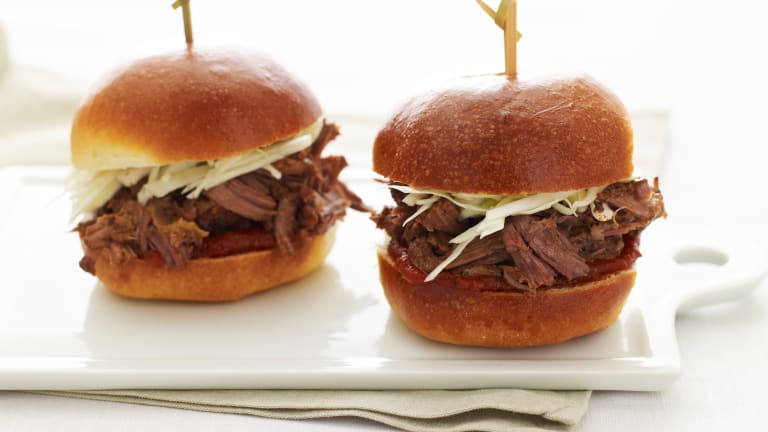 8 Ideas for Turning Brisket Leftovers into Rightovers
If you don't know anything else about me, you must know that I literally wrote the book on brisket.  In the book you will learn the best way to prepare brisket, the preferred way to flavor it, and sides to serve with it. 
When I was writing this book I cooked many a brisket and ever since when I get called on for cooking demos I am always asked to make my famous brisket, so you might be wondering how I use all that brisket.  While my family of 8 can put away their faire share and I can freeze some for large family gatherings, I also love to reuse the extra brisket in amazing ways.  
That's why I don't call them leftovers, those don't sound very good, but rightovers, well now we're talking. 
So today, I am sharing my 8 ideas for turning leftover brisket into your new favorite weekday dinners. 
1. Salads
Brisket Salad? Yup you heard me. Shred and toss with your favorite veg. For a little South-East Asian inspiration start with my Spicy Thai Beef Salad or Thai Chicken (use your brisket!) Salad.
2. Sandwiches and Sliders
Pulled Chicken Sliders With Mango Barbecue Sauce (use brisket)
BBQ Pulled Chicken Sandwiches (use brisket)
Teriyaki Beef Banh Mi With Sesame Cucumber Salad
Stuffing a bun with leftover brisket is nothing new but nevertheless worth repeating cause it never gets old. Kick it up a notch by topping with crunchy green cabbage like I do with my Short Rib Sliders, or soft creamy avocado like I do with my BBQ Pulled Chicken Sliders. Or take it to the next level by making a homemade Mango BBQ Sauce and Pepper Jicama Slaw or go "Banh-Mi" with carrots, cabbage, radish, cilantro, lime, rice wine vinegar, chili garlic sauce and Sesame Cucumber Salad.
3. Tostados and Tacos
Shredded Chicken Tostadas With Spicy Tomato Salsa
Whether folded and filled like my Chicken Tacos or flattened and open faced like these Tostadas with Spicy Tomato Salsa, crunchy fried tortillas and leftover buttery brisket are a heavenly pairing.
4. Ravioli
Try Ale's from scratch broth and brisket filled Ravioli or take a shortcut and fill ready-to-boil wonton wrappers with shredded brisket.
5. Hash
Turn last night's dinner into tomorrow's breakfast with this Sunrise Hash. Replace all or part of the chicken with brisket.
6. Sushi
Try this Tricolor BBQ Beef Sushi cause it's cool and crazy and colorful and brought to you by our friend Yosef at This American Bite.
7. Chili
Cause it's really made from all the leftovers, the brisket, the pan juices, the onions (saves you slicing and sautéing time) but you'll feel like you are eating an entirely new dish.
8. Pizza
Grilled Pizza With Shredded Chicken And Arugula
Not just for mozz – top with shredded brisket and arugula for a little something different.