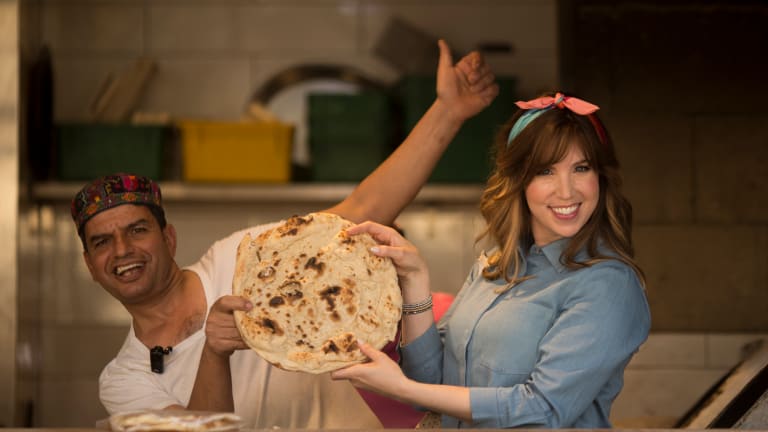 Kosher Bread Baking: The Art and Science of Grilled Flatbreads
Perfect for summer or anytime of the year, flatbreads grilled outdoors are a great way to impress at your next barbecue.
As the summer heats up, so do the frequency of backyard barbecues. Nothing is better than keeping the heat out of the house, but there is more to grill than just meat. 
Bread baking has become all the rage lately, but now it's time to bring your baking outdoors.  The best bread to make on your grill are flatbreads.  They can be made plain like our favorite Israeli style Laffa breads or they can be made with flavors and/or toppings like the Italian Focaccia.  
These breads are often baked in the oven with a variety of savory herbs and toppings placed on top of the bread. In honor of the summer, however, we've switched it up by putting the herbs inside the dough, and we're grilling the flatbread we've made from scratch for use as hamburger, hot dog, grilled chicken or sausage buns. Your family and friends will be seriously swooning with delight at the style and flavor that grilled flatbread imparts. You may never buy a store-bought hot dog bun every again!
We've assembled the top five tips to making amazing summer flatbread, and we will, as always, follow our tips with a delicious recipe ideas. Happy grilling!
Save Time by Doing the Rise and Proof in Advance
One thing you know in advance when baking yeast breads is that you need to put in the time to let the yeast do its work. This recipe requires a rise and proof, like challah dough, which means that once the dough is assembled, it should be set aside in a bowl to rise, and then shaped, and set aside again to proof, which means to let it rise again, but for a shorter amount of time. Based on the temperature of your ingredients and your kitchen, the first rise can take one to two hours, and the second rise should only take 15 to 30 minutes. The great thing about flatbreads is that this entire process can be done the day before and then the dough can be refrigerated overnight. The only thing is to make sure your dough has reached room temperature again before you start grilling your flatbreads. Otherwise, they may be raw on the inside while the outside has cooked
You Need to Knead this Dough

There are times in baking when kneading is required, and times when it isn't. Flatbread is a time when it is required. Kneading dough helps develop the strands of gluten in the flour, and that's what leads to the delicious texture of chewy, homemade bread. Don't skip this step, because if you do, your bread won't have a pleasing overall texture. However, never fear. With today's awesome stand mixers which can be easily fitted with the dough hook attachment, you don't have to sweat and labor over your bread as you knead it. You can simply turn on the mixer and walk away for five minutes until your dough has gained a nice elasticity, which will translate to chewiness in the final product. 

Bread Dough Can Be Tempramental But You're the Boss!
When you are cutting off pieces of dough and rolling it out to the size you desire, you may find that the dough is acting like the shrinky-dinks you played with as a child. The dough may be so stretchy that you are worried that you have overactivated the gluten, but don't worry, the problem is correctable! Simply stretch the dough out as much as you can, and then simply walk away for five minutes. This should give everything a chance to relax a little bit, and the dough will be more pliable when you come back to it.

Check Your Grill for Hotspots and Grill Bread After Meat
Whenever you grill anything, you want to know which parts of the grill are too hot, which can lead to your flatbread burning very quickly. The longer you grill on a given day, the better you know your grill. When grilling flatbread, it's best to wait until the temperature of the grill has reached a steady temperature, about 350°F. While it's absolutely fine to cook meats on the grill at both higher and lower temperatures, flatbreads are susceptible to burning within moments if the temperature is too high, so keep a close eye on them. That's why it's best to grill flatbreads after you have cooked your meat. Plus, it's kind of a bonus that the flavors and oils left on the grill will impart subtle and delicious flavors to the flatbread.
Be Creative! Choose Herbs and Flavorings That Go With Your Meat
If you are grilling Polish sausages, you might want to make very plainly flavored flatbreads, perhaps with just a little extra kosher salt, but if you are grilling the usual hot dogs, chicken and hamburgers, don't be afraid to get creative and experiment with different herbs and spices to liven up your flatbread. 
Fresh or dried rosemary or thyme are very flavorful and can make incredible flatbreads to go with grilled chicken, and adding minced garlic, minced roasted red peppers or even minced sun-dried tomatoes to your flatbread dough can give an extra kick to hot dogs and hamburgers. The key with grilled flatbread flavorings is to just make sure that you've added the herbs or veggies before rolling out the dough, so that the additions aren't too much on the outside of the bread, which will make it more susceptible to burning.
Now it's time to get inspired, here are our favorite focaccia, pita, laffa, etc. flatbreads that can all be adapted to cook on the grill with our tips above.