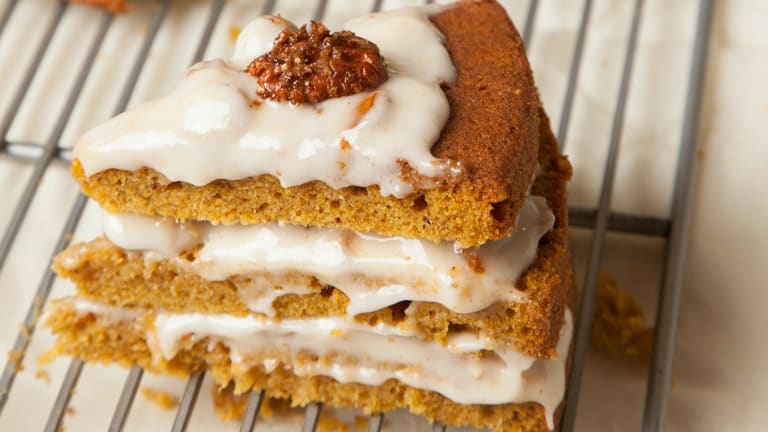 Dairy-Free Desserts You Should Make For Rosh Hashanah
We know everyone is always looking for new desserts because they are by far the MOST popular recipes on our site.  Especially for the upcoming High Holidays when we are more likely to have guests and more apt to make something fancy and drool-inducing. 
On Rosh Hashanah, it is traditional to eat foods symbolic of our hopes for a good and prosperous new year. The most recognizable of these symbols is the apple dipped in honey, but there are many more symbolic foods associated with Rosh Hashanah, such as gourds, fenugreek, leeks, beets, dates, pomegranate, and the head of a fish. These desserts are based around some of these traditional symbolic foods (don't worry, not the fish head). While it is customary to serve the symbolic foods at the beginning of the meal, these desserts are a fun way to serve them at the end as well.
We are here to inspire you with some favorite non-dairy desserts you can try out now so you can perfect them before the big day.  
CHOCOLATE HAZELNUT CHIFFON CAKE
"This is one of my favorite cake recipes…Tried and true, simple but breathtaking and always a major crowd pleaser. What makes the cake stand out from the rest is its height- it's what we foodies would call, "a tall cake with great presence". The chocolate drizzle on the top just takes it to the next level…Whenever I'm unsure what cake to bake, I turn to this one..time and time again."
Pomegranates are a very common food to serve on Rosh Hashanah. When eating the pomegranate we state the hope "that our merits increase like (the seeds of) a pomegranate" in the coming year. These tarts are the perfect way to highlight the many seeds within each pomegranate. The sweet-tart crust is filled with a soft pomegranate curd and topped with as many fresh pomegranate seeds as will fit on top. The seeds look like glistening jewels making this a very elegant dessert.
PUMPKIN CAKE WITH PECAN PRALINE FROSTING 
"When you are a pastry chef, people just show up on any Yom Tov afternoon because they are certain that you must have a dessert sitting around. The truth is I usually do. I have a cake platter that is covered by a heavy glass dome and it lives on my counter. Before every Shabbos and Yom Tov I "feed" the dome so it is always filled with something. For Sukkot, I always shift towards fall flavors such as apples, pumpkin, nuts and cranberries. This cake is a moist pumpkin cake filled with pecan praline frosting. The frosting contains crushed candied pecans so it is both creamy and crunchy."                   
This next dessert with pumpkin is included as a stand-in for the gourd. Since pumpkin and gourds are both members of the squash family this seemed like a much tastier option, saving the real gourds for sukkah decorations in a few more weeks. This pot de crème tastes like creamy, soft pumpkin pie filling.
"This tart celebrates the bounty of fresh figs available in early fall. They pair wonderfully with frangipane - an almond cream filling. Glazing the figs with silan (date honey) is a great way to further incorporate more simanim into your Rosh Hashanah menu. This tart is so good that the tasters I invited over offered to buy some for Shabbos."
These are a fun take on the traditional flavors of Rosh Hashanah. I love to serve homemade marshmallows at all my Shabbat and holiday meals. A bowl of the springy cubes of marshmallow set out with the tea and coffee never fails to get a smile from my guests, old and young alike. We dip apples in honey at the beginning of the meal as a symbol of our hopes for a good sweet year. With these marshmallows, you can end the meal with a bit of extra sweetness, as well. These would also make a great hostess gift for Rosh Hashanah.
Shanah Tovah u'Metukah, may it be a good as sweet New Year.