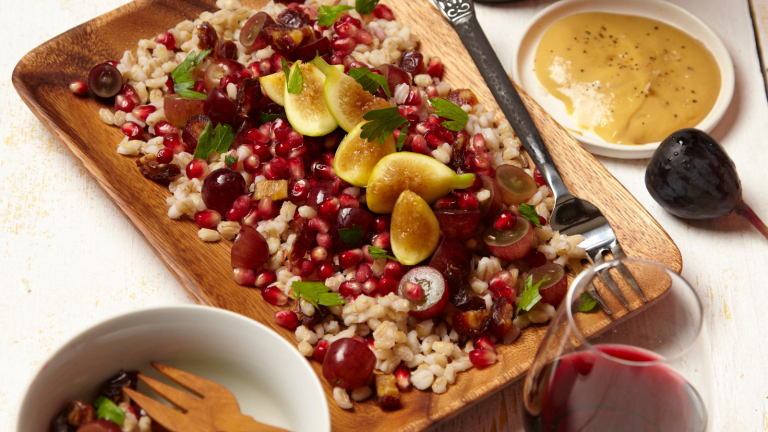 Favorite Tu B'Shevat Recipes
This year Tu B'Shevat, translated as the 15th day of the Hebrew month of Shevat, begins in the evening on Wednesday, January 27, 2021, and ends in the evening on Thursday, January 28th, 2021.  This "New Year for the Trees" holiday marks the beginning of the slow process when the trees begin blossoming and flowering with new life and new fruit.  In many homes, there is a custom to eat something from all of the Shiv'at HaMinim, seven species of the land of Israel – wheat, barley, grapes, figs, pomegranates, olives and dates – that have a special significance in Judaism.
So if you're looking for more ways to incorporate the seven species, keep reading.
This here is my signature Shivat Haminim Salad. There certainly is somethin' for everyone here to the tune of all 7 agricultural products enumerated in the Torah as special to the Land of Israel. Barley, wheat, figs, dates, grapes, pomegranates and olive (oil) are all represented in this salad. The honey is a nod to the land of milk and honey and even the red wine vinegar is a further play on the grape theme. Make this and you will have done this holiday proud. For single ingredient, inspiration continue to scroll down.
My soothing Beef and Barley Porridge is a hearty winter soup that eats like a meal and is a delicious way to add barley to your Tu B'shevat holiday.
Chicken Thighs with Roasted Winter Fruit
Roasted grapes adorn chicken thighs along with winter fruit for a sweet and savory main.
For a sweeter chicken dinner go ahead and add some dates, you can try my Date Glazed Roast Chicken.
Green Bean with Walnuts and Tapenade
A light (green!) side, serve this warm or at room temp and double the tapenade for an awesome olive dip that will last in the fridge for a week.
Featuring figs this beautiful bark combines creamy white chocolate with delicious dried fruits and nuts for an elegant but simple dessert, treat or gift. Goes great with semi-sweet or bittersweet chocolate too!
Chocolate Cake with Pomegranate Swirl
Semi-homemade Pomegranate Swirl ice cream is brilliant with a fudgey brownie or slice of rich chocolate cake.
Easy u B'shevat Treats
Leave a comment and let me know how you celebrate Tu B'Shevat.