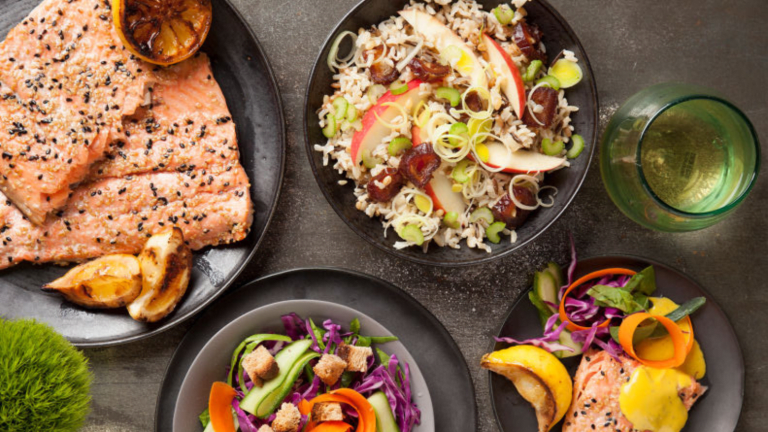 My Favorite Rosh Hashanah Menu
Simanim are so my thing. Now of course I know that on Rosh Hashanah they are everyone's thing, there is a custom to eat honey and other sweet foods on this holiday, as well as simanim, foods whose names suggest a variety of blessings for the new year. These include pomegranates, leeks, beets, dates, and carrots —foods you may have been serving year round, but suddenly, they're in the spotlight, laden with symbolic promises of good things to come.
In addition to holding a Rosh Hashanah Seder where all the simanim make an appearance (even that fish head!)
LEARN MORE ABOUT SIMANIM AND GET A PRINTABLE GUIDE
Year over year I love having fun and challenging myself to see how many of these I can work into my Rosh Hashanah recipes
I let them inspire my menu. 
This fish course alone features no less than 9 simanim (fish, honey, spinach, carrots, cabbage, pomegranate, apples, leeks and dates). I am nothing if not efficient. And all recipes are kissed with honey... well more than kissed. I call for generous measurements because why shouldn't our cup runneth over with sweetness this new year?!
HONEY-SESAME SIDE OF SALMON with Honey Mustard and Dill Dipping Sauce
This entire course serves 6 to 8 and can easily be doubled and tripled should your table runneth over with company.
I tested this recipe on my family one night when my mom was visiting way back when. Two ladies and five kids ka"h polished off this 2-pound side of salmon in a blink. Any recipe that has my kids eating and loving heart-healthy fish is a year-round winner.
SPINACH SALAD with Sweet Pomegranate Dressing and HONEY WHOLE WHEAT CHALLAH CROUTONS
It's incredible how simanim-inspired cooking can also be healthful. This salad is loaded with green leafy spinach, carrots and cabbage and topped with whole wheat croutons. Just trying to keep your "new year's resolutions" on track from day one.
Since lots of Ashkenazi folks have the custom to refrain from nuts during the High Holiday season I have omitted them from this recipe. But year-round consider adding 1⁄4 to 1⁄2 cup chopped walnuts.
Now, shall we try some soup? 
If you're up for a unique Rosh Hashanah soup to add to your menu, this one is perfect.  
MORE: SIMANIM INSPIRED RECIPES FOR ROSH HASHANAH
Chicken with Apples (bonus video below)       
This chicken just screams Rosh Hashanah and when you serve it alongside my Spinach Salad with Pomegranate Dressing and Roasted Beets you have the perfect simanim inspired main course.
What about dessert? 
MORE: 4 QUICK & KOSHER SIMANIM INSPIRED MENUS
You can feel free to choose something with apples and/or honey, but for something off the beaten track try these carrot muffins, they won't disappoint. 
Wishing you all a year where all the blessings of the simanim come to fruition!!!