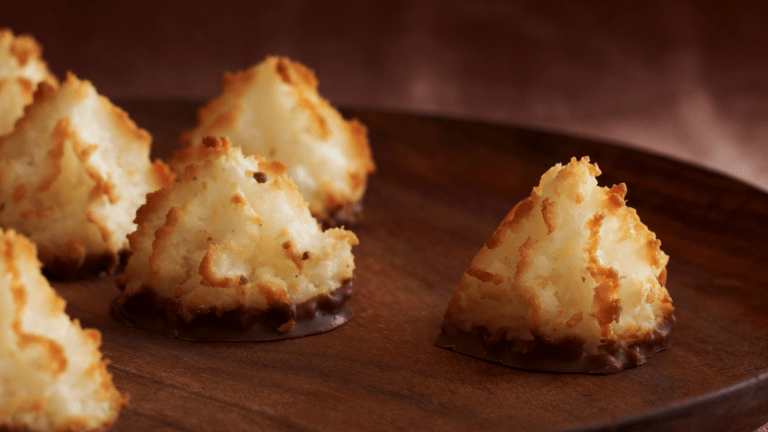 Passover Desserts that Freeze Well
These desserts freeze well but also taste incredible fresh. If you are already in Passover mode or simply jotting down menu ideas, these desserts offer tons of inspiration and possibilities. 
1. ORANGE GLAZED ANGEL FOOD CAKE
Follow instructions to bake cake. Do not make the glaze. Allow cake to cool completely. Wrap well and freeze. Allow to defrost at room temperature. Make glaze once cake is fully defrosted. 
2. PASSOVER CHOCOLATE SPONGE CAKE
A standout cake. Garnish with chocolate sauce and dark chocolate shavings before serving. 
You can double the recipe and make in a 9x13 pan if planning to feed a crowd and do not have a tart pan. Slice when still chilled for easy slicing. 
These no bake brownies also use healthier and better-for-you ingredients making these a win-win recipe. 
The basic cookie is wonderful as is, so skip the marshmallows if you can not find them or prefer a rich chocolate cookie. 
MORE: 18 Perfect Passover Cookies
Serve with coffee or tea for Passover brunch. 
7. GIANT CHOCOLATE CHIP COOKIE LAYER CAKE
Freeze the dough and cream. All that will be left to do is bake the layers and fill with cream once cooled. 
8. CHOCOLATE MANGO GANACHE TRUFFLES
This ganache recipe is versatile enough to use as cake fillings, crepe fillings or served warm over ice cream. 
This recipe is pretty easy to make. You can make your own almond flour, by blending blanched almonds until it resembles flour. Keep an eye on the almonds while blending. Over blending will lead to delicious almond butter. 
These cakes are deceptively simple to make. Instead of ramekins us disposable baking cups. Freeze before baking covered well. When ready to serve, simply remove from freezer and bake according to recipe instructions. 
11. Macaroons
The iconic Passover dessert is so much better when homemade, but at least you can make them well in advance, because they freeze perfectly. 
12. Macarons
Even the fancier French macaron made with almonds can be frozen.  They are more delicate so store them in a hard container.  You can fill them before freezing too, then just let them defrost for 20 minutes. 
13. Nut Fingers
These cookies are super easy but they also freeze well, so don't worry about making too much.