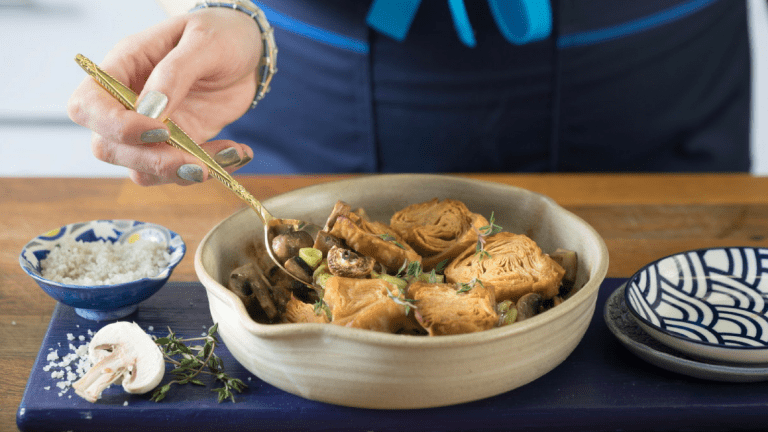 Vegan Rosh Hashanah Menu Simanim Inspired
Every year we create menus loaded with all the simanim.  We have lists of Rosh Hashanah sides, we share roasts and chickens and freezer friendly briskets and kugels, but we realized this year after many requests came in that we have not posted a plant based Rosh Hashanah menu inspired by the simanim.  
So here it is, a full menu, completely vegan for your Rosh Hashanah holiday.  Whether you want to go fully vegan or just cook a few new meat free recipes you will love this menu. 
Start with our Apple Pie Challah, use your favorite vegan challah dough or ours. 
You could go with a creamy carrot soup, but since we are going to vegan might as well get some extra protein in the soup course. Love the combo of lentils, winter squash (one of the simanim) and lots of turmeric. 
This ingenious recipe uses the Yemenite Jachnun bread in a whole new way.  Loaded with leeks (another siman) and mushrooms, it's not your usual stuffing.  Find Jachnun in the freezer of your kosher supermarket. 
This incredible side can be made with any leafy green (spinach and chard are simanim) and served over couscous.  You can even add oven-baked tomatoes to give more color. Just beware it is loaded with roasted garlic. 
Carrot Salad with Mint and Dates
Black Eyed Peas and Green Beans
Black eyed peas are a creamy, almost buttery bean and another favorite siman.  Paired with onions and green beans you will love how this rounds out the meal. 
I love how this dessert combines apples with chocolate, this is for those of you who just can't enjoy dessert without a little chocolate.  You can make all sorts of fruit salads too. 
Browse through more vegan Rosh Hashanah recipes.