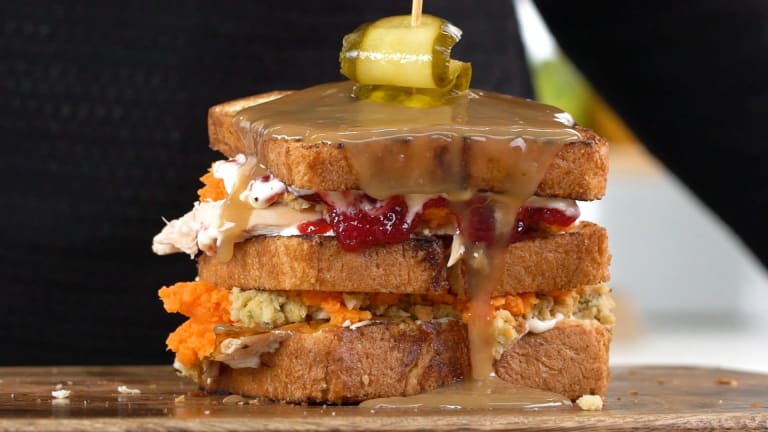 What To Do With Those Thanksgiving Leftovers
If you're surfing the net the day after Thanksgiving it's probably for one of two reasons: you need to escape from your family, or you've got no idea what to do with all those leftovers. And maybe it's both: you've got no idea what to do with your family that has refused to consume another bite of turkey.
I know the scenario. Even though everyone's complaining that they overate, there's enough turkey sitting in your fridge to host another banquet. But I prefer to put all my favorites in one ultimate sandwich like this.
ULTIMATE LEFTOVER THANKSGIVING CLUB SANDWICH
But if you're looking for something a little more inspired, here's a super solution: 
Turkey Chili Verde with Loaded Corn Muffins
Dice up your leftover turkey meat and toss it into a hearty chili. And if you've got leftover corn use it in the loaded muffins. They're a cinch to make, and are chock full of delicious sweet corn and green onions.
What's best about this recipe? It comes out perfect every time, even if you're a beginner cook!
Prep time is 10 minutes and it takes a total of 20 minutes to bring a delicious, piping hot dish to the table. It's sure to satisfy everyone – even the folks who said they would never ever ever touch turkey again.
Here are a couple more great leftover turkey dishes: 
You can never go wrong with a simple hash, it's the answer to all types of leftovers.  Same goes for pot pie, we have a version below that calls for leftover turkey, but any meat pie can be adapted to use leftover turkey cubed up. 
Using Up Leftover Turkey