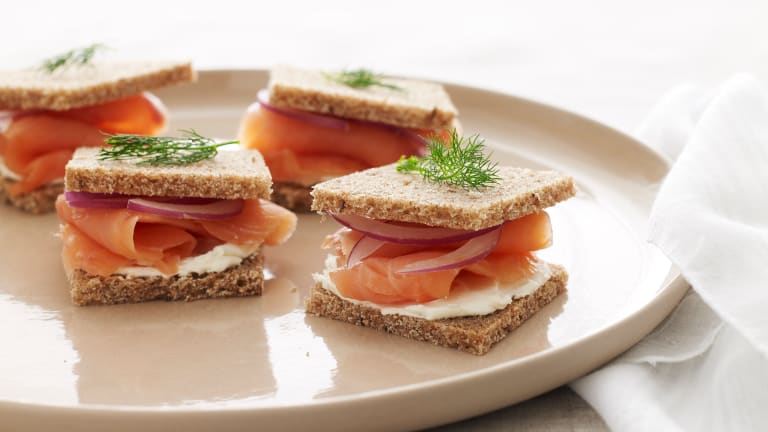 Afternoon Tea Recipes
Most of us have some relationship with tea. For many Jews with ties to the "Old Country," a "glezel tay" – hot tea served in a clear glass -- is one of life's untainted pleasures. The experts knew how to sip it through a sugar cube held between the teeth. Surely it's impossible for anyone born in the USA, or at least that's what I like to tell myself.
But I have a totally different relationship to tea and it is firmly grounded in a fantastic childhood memory. My family was known to frequent some pretty posh hotels across the United States and my mother introduced me to Afternoon Tea as a rite of passage. (This custom was imported from England about 300 years ago, but I'll tell you a little secret about that at the end of this article.) No, we didn't wear big floppy hats, white gloves, or speak with snooty accents. We didn't sit too primly either, though I tried. What I loved about it was that it was special, delicious, and just for us ladies. (Daddy didn't go for the tiny sandwiches or tea; his style is more the all-you-can-eat buffet.) But I just adored those soft mini-sandwiches with the crusts cut off, scones slathered in creamy butter, a touch of jam and, of course, the tea!
So when Tamar said to me "Jamie, why don't you develop a few recipes for Shalosh Seudos – how about Afternoon Tea style?" I jumped at the chance. To be honest, I'm not sure how many of you men folk out there will actually go for an Afternoon Tea Shalosh Seudos – but who am I to argue? Hey, it doesn't matter. A few easy recipes for Afternoon Tea also would be so much fun for a bridal shower or a sweet sixteen, maybe even a summer Sheva Brachos!
So whether you're planning a "Ladies Only" special event or a Shalosh Seudos for friends and family, you ought to know the traditional AT menu. This checklist will help you organize everything:
✓ Tea sandwiches
In England, these tiny sandwiches are called "savories," and have we got some savory delights for you! We have Smoked Salmon Tea Sandwiches, Cucumber and Watercress Finger Sandwiches, Red Pepper and Pesto Sandwiches and Chunky Tuna Sandwiches. I hope to have included a little something for everyone. I kept these pareve, just in case you're thinking of doing this for Shalosh Seudos. Now, you don't have to cut all the crusts off -- but it does make them more elegant and authentic – so why buck tradition? Make the sandwiches using different breads so the platter will look varied and appetizing.
✓ Scones
There is nothing like a hot scone with a pat of butter just melting into it. (Warm them up on your Shabbos blech). My recipe for Currant Scones is sure to delight. Leave out the currants if you're picky, or replace them with raisins, craisins or dried blueberries for something a little different. Try my Chocolate Espresso Scone for sheer decadence. In case you are still fleish at your third meal go with a pat of margarine in place of butter – but save a scone for when you can go full throttle! Make it a huge creamy pat (or a BIG slather) of butter.
✓ Pastries
At a typical English Afternoon Tea, right after the savories and the scones are served, you start on the pastries. Mini Blueberry Lemon Tarts are just the thing. You can make this with any berry. Make three different batches – with blueberries, strawberries and raspberries -- for a very colorful presentation.
✓ Tea
When serving up English Breakfast Tea from your fancy teapot – you should also consider serving some Mint Lemongrass Infused Iced Tea to satisfy guests who don't want hot tea. Of course, authentic AT features hot tea, no matter what the temp is outside.
Oh – wanna hear the secret I mentioned earlier? 
My good friend Charlotte gives me all these nifty history tidbits…The fact is that tea was popular in France for more than 20 years before it ever reached England in the 17th century, and it was the French who originated the idea of pouring milk into it. It seems they even regarded it as "health food," in our language. Back in the days of the Sun King, there was a Madame de Sévigné who wrote absolutely scandalous, gossipy letters to her daughter. In one, she reported, "Saw the Princess de Tarente …who takes 12 cups of tea every day…which, she says, cures all her ills. She assured me that Monsieur de Landgrave drank 40 cups every morning.
"But, Madame, perhaps it is only 30 cups or so?"
"No, 40. He was dying, and it brought him back to life before our eyes…"
Well, nobody would make that claim today – but a nice cuppa tea often brightens our day, if not curing all our ills. And a tea party is a wonderful way to enjoy it with friends.
Please let me know if you host Afternoon Tea, and how it went. Even if you're not going for the whole shebang, let me know which of these recipes worked for you! Also tell me who you would most like to have a tea party with (real person or fictional, living or not) I wanna know.
Here are all the recipes mentioned above plus some more recipes to enhance your tea experience: