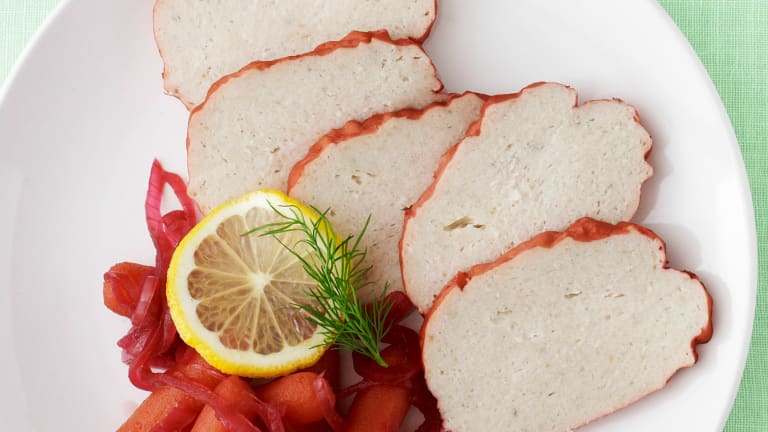 My Rosh Hashanah Menu Starts With Gefilte
Some things in life just inspire me – like fish. 
No really. 
There are so many species of fish with different flavors, textures, and colors: I look at them the way an artist views a blank canvas. That piece of fish lying there has limitless potential and is just waiting to be turned into something fantastique.
So Rosh Hashanah is coming up and I start getting serious about the stuff in my life that matters: my family, my friends, my aspirations – my holiday menu. 
Okay, so maybe your Yuntif menu is not at the top of your prayer list. It's not at the top of mine either, but it's there alright. I think of the food that I serve as a way to both honor these special days, and to give my guests that good-in-your-gut feeling that will help them appreciate the holiness of these holidays.
Surprisingly or maybe not so surprising, Gefilte Fish almost always makes an appearance at my holiday table.
So it's not going to win prizes for novelty. But honestly, I have to work with a husband who can't stand fish except for canned tuna and jarred gefilte: the "hotdog" of the fish world. He'll tolerate frozen gefilte loaves if I do something remarkable with 'em.
Hey, who am I to judge? As pristine and posh as I like to think my palate is, my all-time fave food is mac and cheese out of a box. So hubby has his culinary crutches, I have mine. This is the time of year to forgive.
I think next year I'll try gefilte in a puff pastry, (one of hubby's other fave foods), something like this Salmon En Croute but with gefilte, so he can fall in love with me all over again. 
This year I'm sticking with an old favorite to start my Rosh Hashanah Menu. 
Back in 2010 I shot this video, can't believe how time flies, but I still love the simplicity of this recipe and how elegant it looks.  Plus, we get both beets and carrots to check off our simanim list. (PS that baby in my belly turns 12 next month!!!)
I'm going to make my brisket shawarma flavored and make enough to have leftovers for a shwarma lunch over the rest of the holiday. Don't you just love rightovers.  
Because everyone loves kugel, especially this super simple and sweet kugel using squash (another siman). 
During this busy cooking season, I want to try and waste less, can't quite get to zero waste yet, but you gotta start somewhere.  I'm going to save all my vegetable peels and roast them up for an extra side. 
Swiss Chard with Garlic, Olives and Shallots
I will add a little green to the plate with this savory Swiss chard saute.  One more siman and it also holds up well to reheating. 
I always keep dessert simple, but I also like to get the kids involved and they love making cupcakes and chocolate bark, so we'll make both.