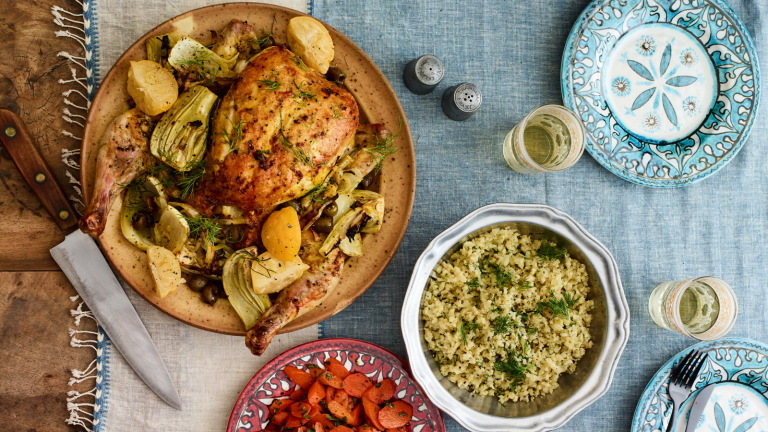 Tamar's Healthy Seder Menu
Passover can be very challenging for anyone trying to eat a healthy diet. Between stuffing yourself way too late at night, and the plethora of meals and junk foods you feel you need to have (because you only eat those chocolate jelly rings once a year)- it's not an easy holiday to stay strong. 
I'm not asking you to give up your nostalgic foods; instead I offer an incredibly tasty and filling Passover seder meal that keeps the calories a little lower, leaving room for some extra treats. 
I promise you will love this meal and your heart and body will thank me later.
VEGETARIAN HARISSA MATZO BALL SOUP
These harissa-spiked matzo balls were a big hit at my table. You can use your favorite chicken soup recipe, but if you have any vegetarians at your table try this flavorful veggie broth.
MAIN
SPLAYED CHICKEN WITH FENNEL AND PRESERVED LEMON
The best thing about this dish is that once you sear the chicken it is ready to serve at the table in one hour! If you can't find store-bought preserved lemons, either make your own or just use more regular lemons. 
MOROCCAN CARROT COINS WTH PARSLEY
To brighten up the plate I love these gorgeous orange carrots with green parsley and lots of spices. 
Don't skip rice on Passover, use cauliflower instead; it's lower in calories and higher in vitamins. This quick side dish pairs perfectly with the lemony chicken.
This flavorful fruit dish will make your whole house smell amazing. Serve as-is or along with some non-dairy vanilla ice cream. Prep starts the day before, making the orange spiced sauce for the fruit.