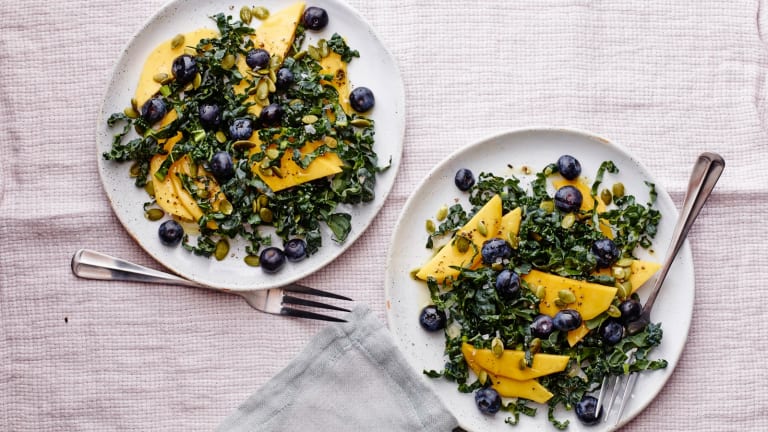 8 Kale Salads Perfect for Your Hanukkah Party
What better dish to serve with fried food then a crisp, fresh, nutritious salad.
I'm looking at you Kale!
Is Kale really so good for you?
Ever since kale moved from the garnish to the center of the of the plate I have not been able to get enough.  Kale is hearty and can be eaten both cooked and raw.  I particularly love kale salads because you can dress them ahead and they don't get soggy. 
The best part about kale is that it is one of the most nutrient dense foods you can put on your plate. Kale is high in Vitamins A, K and C. It is also a good source of vitamin B6, manganese, calcium, copper, potassium and magnesium. It is low in calories, has very little fat and high in fiber and even has some protein. 
There are several varieties of kale and while I like them all, if you're not a kale fan I suggest you try a different variety.  
The dark green lacinato or dinosaur kale is often considered the more elegant kale, it's more buttery in texture and usually less bitter.  You can see it in the back of my kale bouquet below. 
The more common lighter green curly kale is the one we all remember as the garnish on the deli platter, that is easier to find and is still delicious in my opinion.  Sometimes you can also find kale with purple leaves so keep your eye out. 
Kale can sometimes have a slightly bitter taste, that's why when making it into a salad you might add a bit of honey, when sautéing add a dash of balsamic vinegar. 
Kale truly makes a great salad.  It works amazing with caesar dressing, but there are many ways to make a great kale salad.  The trick is to massage the oil and lemon into the leaves to soften them just a bit.  
The following kale salads make the perfect complement to latkes, fried chicken, corn dogs, schnitzel...basically they pair well with anything & everything fried. 
Delicious Kale Salads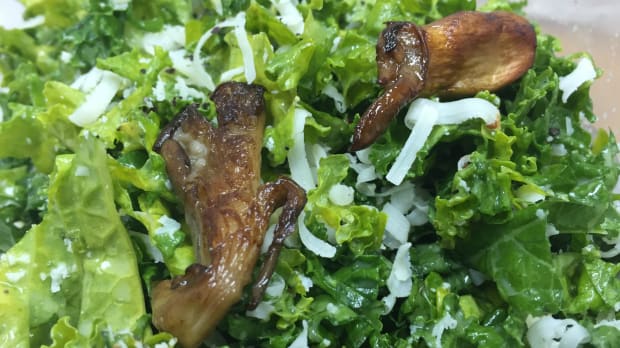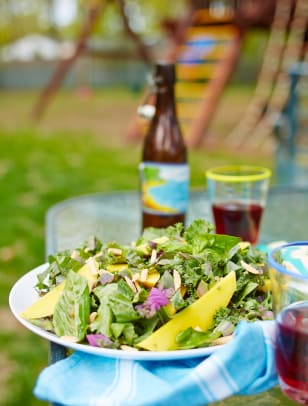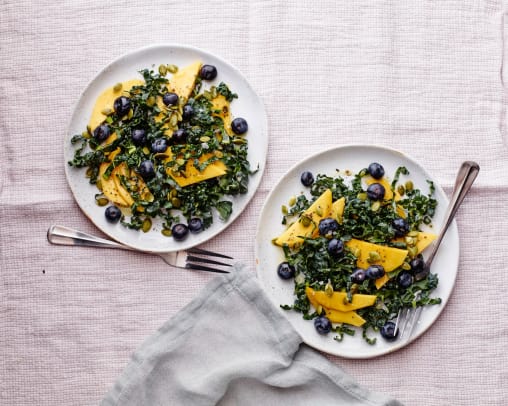 Want more? This Vegan Farro Bowl with kale is a must try! Click here for the recipe.