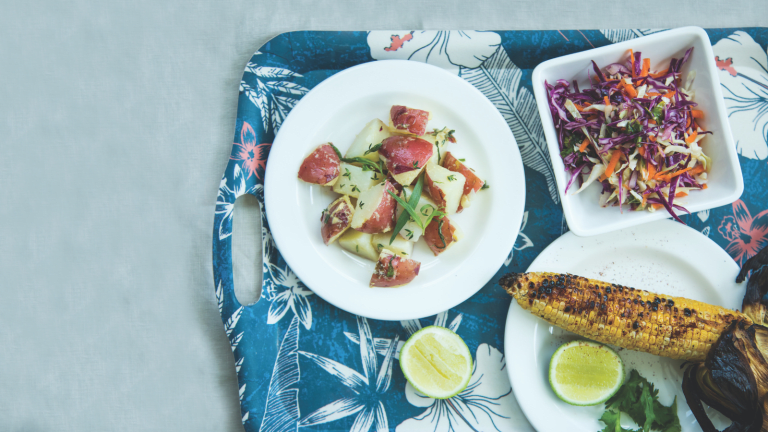 Exciting Barbecue Sides
Barbecue essentials rarely change. You always have your 3 main dishes: chicken, hamburgers, and hotdogs. While everyone gets excited about the mains, you can get a lot more creative with the sides.  
This year, taking it up a notch at your summer barbecue doesn't mean working harder. If you're in charge of the side dishes, here are some tasty recipes that you can make ahead and still impress. They are as easy and recognizable as the classics but way better.
Liven up your Summer BBQ potato salad with some fresh lemon and tarragon, you will love how this simple addition changes up your favorite side. 
Fresh Herb (Mayo-Free) Coleslaw
Fresh and herby with no mayo this slaw will be your new favorite. 
Grilled Corn on the Cob with Chili Lime "Butter"
Good Summer corn doesn't need much but a little chili lime is oh so good. 
More: 8 Delicious Salads for Your Next BBQ
Instead of the classic corn-on-the-cob, a corn salad is great substitution. Hot or cold, this side dish consists of a creamy texture, enhanced with chili flavoring. The rich mayo, lime juice and seasoning creates a spicy dressing, which pairs well with the cilantro. The corn mixed with red onion gives this salad the perfect crunch, and takes a total of 20 minutes to make.
MORE: Mexican Corn 'Mac' And Cheese Recipe
Everyone needs a little spice to their barbecue, and this is the side dish that will do just that. From the hickory-smoked barbecue sauce to the spicy sausage, this side dish is infused with so many fresh flavors. So before you decide to put out that bowl of baked beans, re-think that decision and try something new.
A barbecue needs at least one healthy side dish. Instead of coleslaw drenched in mayonnaise, try this cabbage salad lightly tossed in a sweet dressing. The ramen noodles will give your salad that extra crunch. So instead of the go-to romaine salad with tomatoes, cucumber and onion try this fun, fresh and colorful salad.
More: Vegetarian and Vegan BBQ Sides
Instead of slaw with a little carrot thrown in try a carrot salad with al little red cabbage for a change. 
This salad is another great change up from the regular BBQ sides, tons of flavor and perfect at room temp. 
Raw cauliflower and fresh herbs makes another new salad idea perfect for BBQ. 
Cauliflower with Tahini and Silan
This one is a roasted cauliflower side that can be served hot or cold.