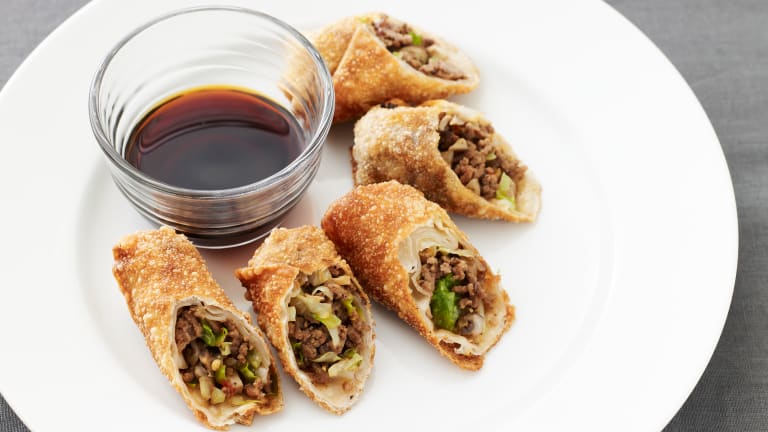 Homemade Egg Roll Recipes
Egg roll fanatics, unite!
I crave egg rolls like crazy – especially late at night, smothered in spicy mustard, duck sauce and soy sauce (YES, ALL THREE). There's a problem, of course. No one wants to run out to the Chinese take-out at 1:00 AM to satisfy Jamie's cravings; at least no husband, who shall remain nameless, who claims he actually prefers to sleep.
That's why I love egg roll wrappers. Our marriage is secure because Hubby can snooze while I make egg rolls myself right in my own kitchen. I can go classic or creative. Depends on my mood.
This is something I definitely want to share with all egg roll fanatics like me. So grab some egg roll wrappers and try these super recipes. 
My Vegetarian Avocado Egg Rolls with Spicy Dipping Sauce was inspired by the El Bomba Egg Roll at the kosher Japanese restaurant Sushi Metsuyan. (Thanks, guys, for the sun-dried tomato, avocado fried egg roll combo concept!) It's so crazy good, you will lose your mind. If you're looking for a forgiving-for-your-figure treat, try my Sweet Baked Apple Strudel Egg Roll. 
Oh, and get extra portions with the savory Five-Spice Turkey Egg Rolls and Beef and Mushroom Egg Rolls because the aroma will surely entice a certain someone who is suddenly awake enough to ask for samples.  
But, don't forget dessert! Browse through the recipes below and find all our favorite ways to use egg roll wrappers. 
Excellent Egg Rolls