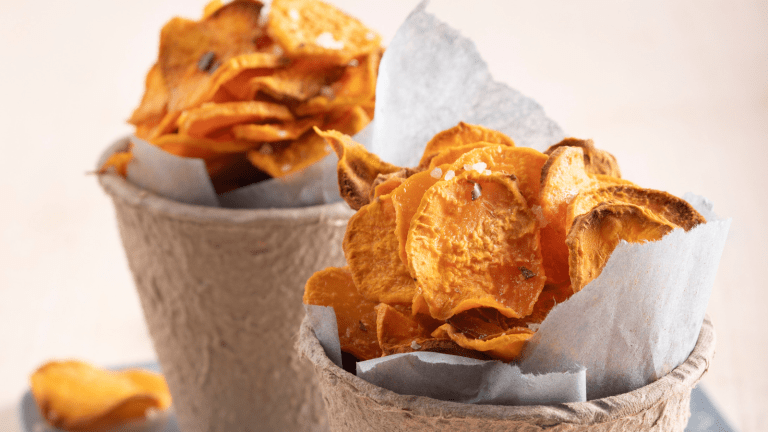 Goodbye Mr. Potato Chips, Hello Veggie Chips
You can't eat just one.  Staring at the empty bag of potato chips in my lap and the crumbs all over my couch, I knew there had to be a smarter way to snack.  The average serving of potato chips has 150 calories, but if you're like most people you are eating three times the average serving. And all you have to show for it is an empty bag and over 30 grams of fat that will go straight to your waist.
Maybe it's time to change your chip?  Making your own baked vegetable chips takes just a couple of minutes to prepare and will be a family favorite -- especially for finicky kids.   Root vegetables, like sweet potato, kohlrabi and acorn squash, are fantastic and all you need is a sharp knife, olive oil and your favorite seasonings.  Favorites such as carrots and zucchini work well too and pair well with Greek tzatziki or yogurt sauce for delicious dipping.
My personal favorite, kale chips, pack a powerful nutritional punch and can be made with any salad dressing or seasoning. For seasoning ideas, try a raging Cajun spice rub, middle eastern zaatar, grill seasoning or ranch powdered seasoning mix.
Although there are many kosher veggie chip options on the market, many of them are really potato crisps with a small amount of spinach powder for color (so no real nutrients) and way too much sodium.  Not only do homemade veggie chips taste better, but they are also better for you.
With these guilt-free recipes, you won't have any regrets when you are staring at an empty bowl.