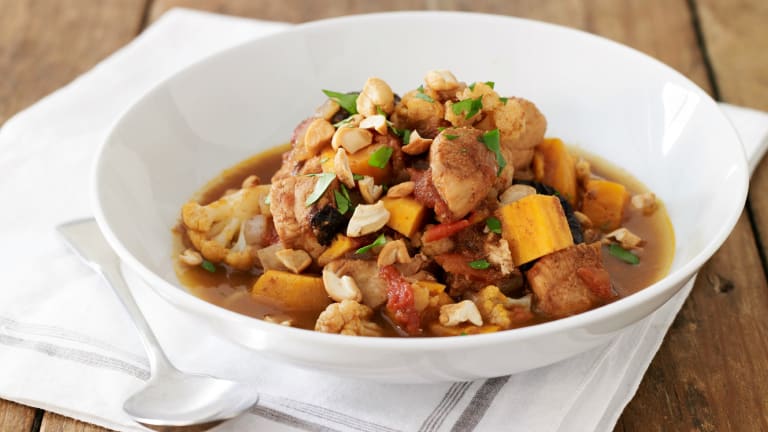 Slow Cooker Recipes You Must Try
The days are getting shorter, our lives are getting busier and when we get home all we really want is a nice hot meal waiting for us. 
Enter the slow cooker. 
Slow cookers are not just for Shabbat cholent.  Don't hide that amazing pot away all wee, it's time learn how to make easy, set it and forget it meals every day. 
Slow cooking food enhances all the flavors without any of the hard work. It is the most convenient and optimal way to make delicious, full-flavored family meals. 
Throw in the ingredients in the morning and come home to an aromatic kitchen and a ready dinner. If you do not have a slow cooker, you can cook all the following recipes in a 220°F  degree oven for six-eight hours in a tightly sealed baking pan. 
WHITE BEAN SOUP WITH LEMON AND GARLIC CORNBREAD
A healthy vegetarian dinner can be had with this all in one soup. Make enough so you don't have to fight over the leftovers to bring to work the next day.
This recipe requires a little more work for the finishing touches, but the real flavor comes from its long cooking while you forgot about it. Set your rice cooker too and you won't have much to do for this tasty dinner.
Meat and veggies simmer all day while you are at work so you can come home to the comfort of a full hot meal. 
Every slow cooker roundup needs a pot roast! This would even be great for the early Shabbat dinners especially if you are not home for lunch the next day so you won't mind using your pot. There are so many variations for pot roast and this is a great one to try.
Bring the shawarma shop to your house with a slow cooker.  Get a great Shawarma spice blend or follow our recipe and have your chicken and onions working away all day.  When you come home just fill your pita and add some fresh tomatoes and cucumbers. 
If you are generally a meat or chicken person, you should not forget how useful the slow cooker is for lamb. Whether in this dish using lamb stew meat or lamb shanks, they are perfect for slow cooking. And all you have to make is quick-cooking couscous and your dinner is ready.
Instead of picking up take-out Chinese food on your way home from work, come home to this aromatic dish that can easily be thrown together before heading out the door in the morning.  
Now that we got dinner covered, what about something sweet?
WALNUT, GINGER AND CRANBERRY STUFFED APPLES
This stuffed apple can be served for breakfast or dessert. Just think of what your house will smell like when this is cooking, that will be worth it alone, but it is also a healthy sweet warming treat.
BREAD PUDDING WITH PEARS, CURRANTS AND CINNAMON
Bread Pudding, typically thought of as dessert, but could definitely be another hot breakfast option. Go ahead give it a try and let us know.
What do you like to use your slow cooker for?