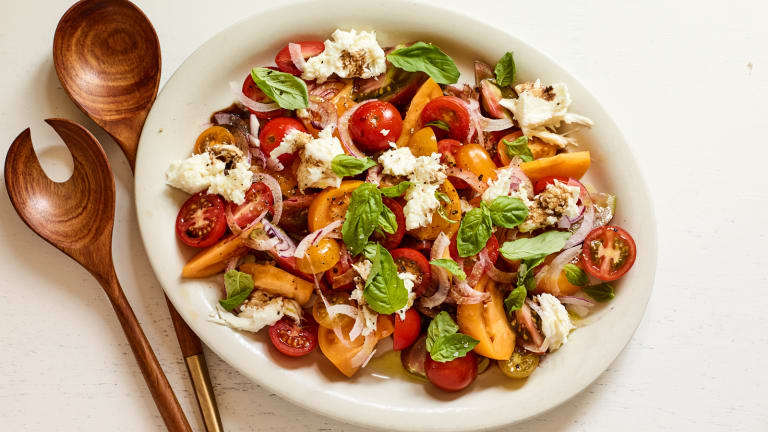 The Best Recipes That Use Fresh Tomatoes
It's your last chance to take advantage of summer's bounty - delicious tomatoes!
On-the-vine, heirloom, grape - green, yellow, orange or red - there are so many wonderful ways to use one of summer's finest fruits. I love tomatoes not just because they are pretty, juicy and succulent but because they are uber healthy too. I always feel good about feeding my kids (and myself) a source of lycopene out of something other than the ketchup squeeze bottle.
Here are just a few ideas for tomatoes, now perfect and in season, keep scrolling for a whole gallery of recipes featuring Summer tomatoes.
Grill 'Em Up: Shish Kebab
If you can take the heat then head outside. I love skewering sweet grape tomatoes along with beef and mushrooms. This great kosher shish kebab recipe was designed for indoor use year-round but don't miss out on grilling outside if you are able.
Fresh Sliced: Mozzarella and Tomato Stacks
Beat the heat with fresh sliced tomatoes and mozzarella. There are just a few ingredients so let's get them right. In season perfectly ripe tomatoes, fresh basil and good quality, mozzarella, extra virgin olive oil, and balsamic vinegar are key. I was introduced to this perfect Italian starter when I moved to NYC. My college roommate Ro could not get enough of this dish and she would order it whenever we went out to eat.
In a Salad: Italian Tomato Salad
This super-simple Italian tomato salad is great for entertaining indoors or out. I serve it as part of the fish course on Shabbos or as a side for a BBQ. It's done in a snap looks beautiful and tastes even better.
While Summer fresh tomatoes are amazing raw, they are also incredible when cooked on the grill or stuffed or roasted.  Browse through all our favorite recipes featuring incredible tomatoes. 
The Best Ways To Use Your Summer Tomatoes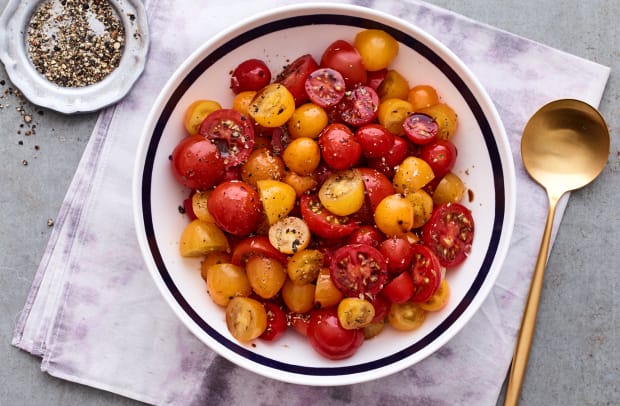 What's your favorite way to enjoy tomatoes in the summer? Leave a comment and let me know.