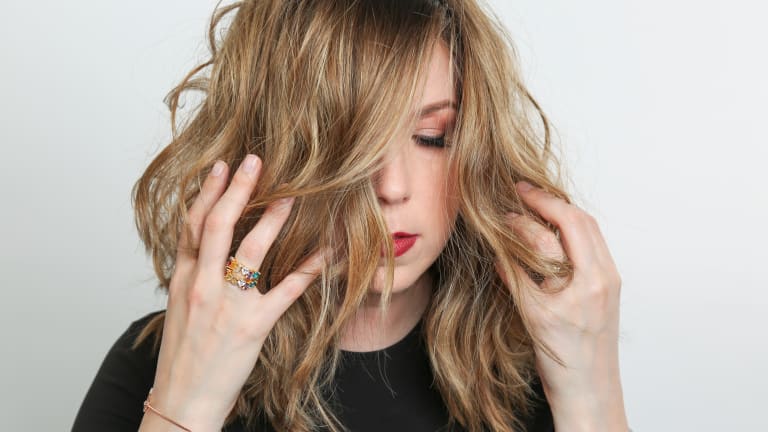 I CLOSE MY EYES AND LOOK BACK -- A DECADE IN REVIEW
On the eve of 2020 here's a look back at the last decade.  The highs, the lows, the personal, the professional, the wins, the losses -- all of which I am thankful for.
This is snapshot of the last 10 years of motherhood, entrepreneurship and aliyah. At the turn of the last decade concepts like self-care and work-life-balance were not yet trending. Thrive Global had yet to launch and I was just winging it, in uncharted territory...
2009
Personal
I closed out this calendar year with my most prized and precious Chanukah gift, our son Avraham Yitzchak (AY). We now had even teams, 2 girls, 2 boys and all was right with the world and my obsessive need for balance and symmetry.
Professional 
This was the year I took my whole cute, cookbook author thing and turned it into a career.  I was named Chief Marketing Officer for Kosher.com an online kosher food delivery service.  The crux of my position was to create a digital community for foodies featuring cooking videos that enabled you to order your groceries for a given recipe with the click of a "button."   
2010
Personal
I found working a full time job, with 4 kids under the age of 4 absolutley grueling.  The whole work-life-balance thing was not trending at the turn of the last decade and I was burning the candle at both ends.  
Professional 
I published my 2nd book Quick & Kosher: Meals in Minutes, the follow up to my runaway success and cult classic Quick & Kosher: Recipes from The Bride Who Knew Nothing (now in it's 7th printing).  All while running and raising funds for Kosher.com - since our start up suddenly found itself in competition with Amazon (the behemoth had just entered the food delivery service industry). 
At Kosherfest this year I met a nice editor who interviewed me as part of a cookbook spotlight series for her website JoyofKosher.com, the kosher version of AllRecipes.com. In a million (bajillion!) years I never would have guessed this editor would become my professional partner, my rock, my pillar, my work EVERYTHING -- to this very day. We have fought the good fight, together for almost a decade.  You all know Tamar!
2011
Personal
Just after we rang in Rosh Hashanah we welcomed Noa to the world.  Our bald, round, dumpling looked just like all the Geller babies before her -- and we were now a family of 7, a number which officially felt big considering I grew up with only 1 sister.
Professional 
Kosher.com folded.  We couldn't keep up with Amazon and were just a wee bit ahead of our time for the kosher keeping community.  We released the url and merged our 20K person sized digital foodie community with Tamar's 20K person sized digital foodie community and launched JoyofKosher.com with Jamie Geller. 
2012
Personal
We finally decided to make aliyah.  Correction, we finally made aliyah.  After years of starting and stopping the paperwork, putting our house on-the-market and then taking it off-the-market, after years of cold feet, we got on that plane, cameras and kids in tow.
Professional 
Truth is I chickened out of the aliyah process for the last few years because I was concerend for my burgeoning career.  But the move to Israel created miracles for our brand and business.  In our first year in Israel we landed our first 5-figure deal.  We were offered $60,000 for a 6 week Passover campaign and Tamar and I got off the call baffled asking each other "did they just say $16K or $60K??????!!!!!!?????"  The campaign was featured in the New York Times and we became "big time."
This was also the year we published the first issue of Joy of Kosher with Jamie Geller magazine in partnership with award winning editor-in-chief, Shifra Klein. And now we became a full-fledged media company.
2013
Personal
If I thought the commute from Monsey to Long Island was tough... 
I started travelling internationally on a very regular basis. Almost overnight I accrued enough points for frequent flyer premier status and the mommy guilt of being away from my brood was almost too much to bear. 
Professional 
And then I got national TV deals.  And made my first appearance on the way to becoming a regular on the Today Show. Oh and I published book number 3 Joy of Kosher: Fresh, Fast Family Recipes with William Morrow, an imprint of Harper Collins.  I had the same editor as Pioneer Woman, Guy Fieri and Emeril!
We had sold-out book launch parties in New York and Jerusalem.
Based on the success of Joy of Aliyah which 506,000 of you watched we "tried" to launch the continuation series Joy of Israel in partnership with Israel Video Network.  We had such high hopes but it just never took off in the same way and our 6th episode was our last.
2014
Personal
We bought an apartment in Israel!  "On paper," which meant we would have to wait (at least) 2 years until it was built  But this was the dream, to own in Israel.  We signed when I was 8 months pregnant and celebrated with a shawarma lunch at Hello Teiman, a great place in a gas station just off "the 1" (aka kvish echad) - so Israeli!
I started filming an untitled docu of the building of our home (coming soon!).
Professional 
We hit 300K unique website visitors the month before Passover and could not believe our own numbers.  This digital foodie community was turning into something real, as in really BIG.  
2015
Personal
Shaulie Dovid was born.  I had my Sabra.  Teams were all even again, 3 boys, 3 girls.  I thanked G-d (and continue to thank G-d) for my blessings everyday.
Professional 
Some of our videos (for cholent and challah and other Jewish classics) started racking up hundreds of thousands of views.  I was speaking all over the world and secured a huge endorsement deal with Southeastern Grocers -- my picture was plastered over the kosher aisles all over the Southeast United States.
2016
Personal
I was officially exhausted and burnt out. I wondered how I would sustain this pace of motherhood and entrepreneurship.
Professional 
In 2014 Haaretz named me one of "66 Israeli Women You Should Know" and in 2016 Times of Israel listed me as one of "68 Extraordinary Women in Israel."  I was humbled, Hubby and my Mom were proud.
I announced my partnership with the Waldorf Astoria Jerusalem, my home away from home, with this epic short film.  I always love the chance to flex my producing and directing muscles.
We published our 4th book the Joy of Kosher 28 Day Challenge which was a precursor to our Fresh Families meal plan which launched the following year.
2017
Personal
Shaulie Dovid was finally sleeping through the night.  I lost the baby weight.  I was starting to feel like "me" again. Bracha Miriam our eldest became a Bat Mitzvah.  And we moved!  Almost 2 years to the day we closed, we received our keys.
Professional 
I was named Honorary Grand Marshall of the Celebrate Israel Parade.  INSANE!
Our 5th cookbook Brisket 101 became an overnight Amazon bestseller in the cooking and entertaining category (not the kosher category but the general cooking and entertaining category) and was featured on the Today Show again and again.
We published the last issue of JOY of KOSHER with Jamie Geller magazine and prepared for a new chapter in our professional life.  We were going to double down on digital media and turn this company on it's head.
2018
Personal
Just before moving in to our new place I started to chicken out.  The apartment was smaller than anything we had ever lived in and our family had grown. I was concerend about the lack of space -- there was no den, laundry room, we were short on bedrooms -- and overall the new apartment was a 1/3rd of the size of the home we left behind in NY!  Instead of building the kitchen of my dreams and doing all the decorative finishing touches I had been planning for the last 2 years, we bought the connecting apartment on the same floor and just broke down the wall and moved in.
2018 was also the year we had to pay an insane amount of back taxes due to complications with our US/Israeli accounting.  This drained all our savings and the cash reserves we had on standby for the new place.
I cried a whole lot this year as money became sooooo very tight and I was making investments and changes in the business as well.
Professional 
I rebranded everything.  Our corporate company went from Kosher Media Network to Kosher Network International (KNi).  Our website and all our social handles changed from Joy of Kosher to Jamie Geller and I finally felt like I was coming out of the shadows.
Meanwhile No Mistaking Baking, cookbook # 6, made it's way to the Today Show.  And I almost launched a spice, sauce and condiment line. After 2 years of intensive recipe development and contract negotiations it fizzled into nothing.
I was completely dejected.
But I just kept smiling for the camera.
2019
Personal
The year I learned to be humble.  
The year I suffered repeated embarrassment over my (lack of a) kitchen: "What's with your kitchen?" "Why don't you have a kitchen?"  "When did you move in?"
The year I learned how long it takes to pay off debt.  
The year I gained back all the "baby weight" without the benefit of actually having a baby. Everyone asks me if I'm pregnant though. It's slightly humiliating to feel the effects of stress manifest in my appearance. 
The year I decided to just trust in G-d and work on my faith and keep pushing forward.
Professional 
The year we welcomed viral video brand Jewlish to our family along with the printing of our 7th book Jewlish: One People Many Flavors. 
The year we introduced Jamie Geller X JChef to the world!  The only nationwide kosher meal kit delivery service.  A project we had been working on and dreaming about for years that finally, seemingly, came together overnight.
The year we reached numbers and statistics I never ever dreamed were attainable for a kosher/jewish "foodie community."
The year we became "A Global Food-Media Company" and the "The Most Watched Jewish Food Network in the World" with almost 1 BILLION VIEWS!
The year we saw growth ranging from 33% to 69,000% (yes you read that right) in every single category that counts.
The year that reminded me no life is perfect, no matter what an Instagram feed looks like.
The year that taught me miracles can and do and will happen.
2020
I can't wait to enter this new decade together with you.  I can't wait to see what miracles are in store for us, all of us.  And I can't wait to greet Moshiach - may he come speedily in our days! Perhaps even on the first day or days of this new decade!  It's not for nothing that I am known as a dreamer and a believer!
Wishing us all the clarity of 2020 vision, abundant blessings, health, nachas and mazel in this new year, new decade and always.