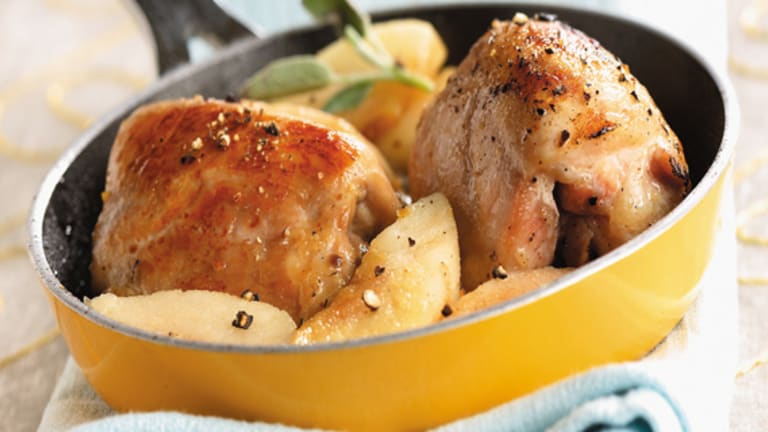 12 Days Until Passover: How To Dress Up Braised Chicken For Your Passover Seder
When it comes to Yom Tov meals, I focus on choosing recipes that are low maintenance. Recipes that freeze well and reheat well.  Dishes that won't dry out or become inedible if not served right away.  On Passover, when you never know how long the seder will go, the last thing you want think about is stressing about the food overcooking. 
My answer to make ahead chicken recipes that won't dry out is Braising. 
Braising is always the way to go for a stress-free experience. Cooking meat or chicken low and slow will result in tender, juicy, fall off the bone meat.  Braised meat or chicken even taste best after a day or two in the fridge or even a month in the freezer. The chicken really soaks up the flavor after being cooled and you are able to remove the fat from the surface, providing a smoother, richer sauce. 
In the Purim issue of Joy of Kosher magazine, Chef Laura Frankel shared an incredible apple braised chicken dish that I earmarked for the Seder, and I am adapting my recipe for braised brisket and making it with chicken instead; it is so easy and soooo good. I am also relying on my family's classic caramelized onion chicken, always a crowd pleaser.
The only drawback of braised food, is the presentation.  To brighten things up and add a finishing touch I rely on a few tricks that are added right before serving.  Here are my 4 secret tricks to dressing up your braised meats for your seder. 
Gremolata. This herb-citrus condiment will give a facelift to the most beige of foods all the while adding that zesty, herbaceous pop of flavor. 
Pomegranate arils. Fresh pitted and sliced cherries or even dried cranberries add a jewel like effect and the sweet-acidic flavor profile usually complements any chicken or meat dish. 
Glaze. Reduce balsamic vinegar or wine with a bit of sugar or honey until syrup-like and drizzle over your roast or chicken dish. This adds visual appeal, but also another element of flavor. 
Caramelized onions or roasted garlic with some chopped chives for color, add umami flavor to any dish. 
12 Passover Seder Braised Chicken Recipes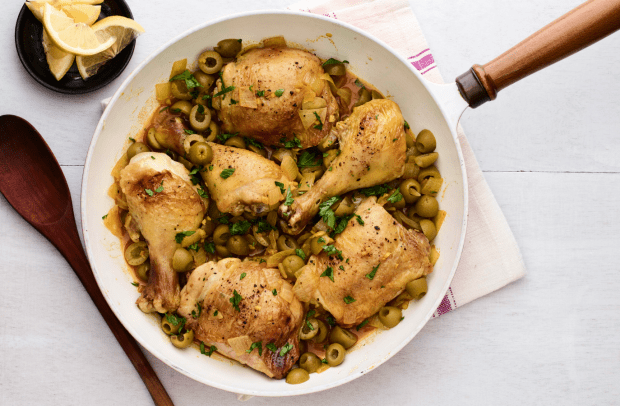 Want more recipes delivered straight to your inbox? Sign up now for the JOY of KOSHER weekly newsletter.