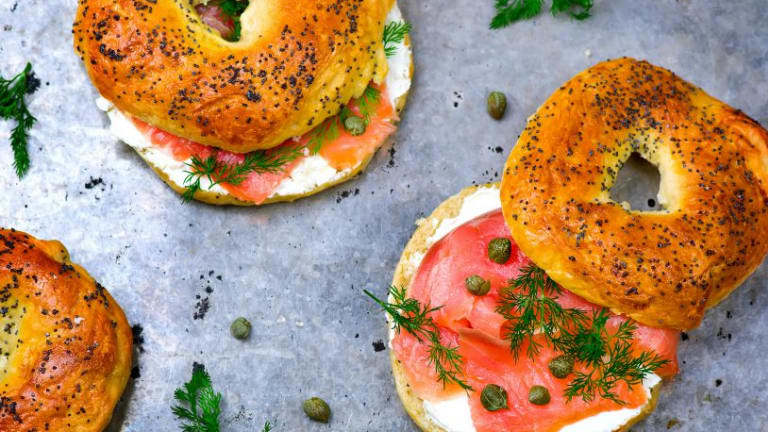 How Jamie Geller Breaks Her Fast
Light light light. 
I like to keep it light, post fast. 
Gone are the days of gorging on Creamy Baked Ziti, Creamy Spinach Fettuccine, Caesar Salad with extra crispy, crunchy, crusty Croutons and Garlic Bread. I always rolled away from the table feeling so gross and so stuffed and woke up feeling even worse.
So the first thing I do is drink, drink, drink. At least one pint-sized glass of room temperature water if not two, to hydrate and take the edge off the hunger. After that I've taken to breaking the fast with fruit and yogurt. I find post fast I favor fresh and crave cool.
But you know I ain't gettin away with that menu for Hubbs and the kids. Now that the girls are fasting with us they expect a spread and have taken to following in their father's footsteps. Like a typical old Jewish man Hubby likes breaking the fast with bagels, lox and cream cheese. 
So I'm sharing every homemade version of this surely millennials old break fast tradition. If these recipes do nothing but inspire you to beeline to the bagel shop and place your order - I'm totally cool with that too!!! #nojudgments
Go all out with homemade bagels, house cured salmon and a signature flavored cream cheese or serve your bagels and lox in a yogurt bowl!!!
And if you want a full menu planned and ready to go, here's mine. 
Lemon and White Wine Broiled Sole