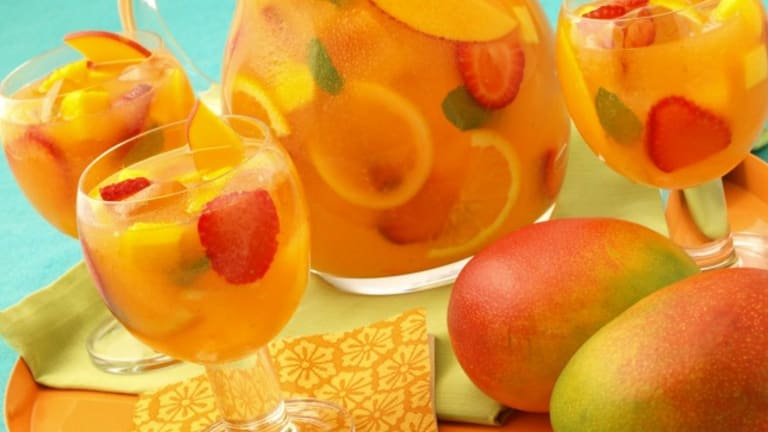 July 4th Kosher Recipe Ideas
Fourth of July is all about celebrating liberty and freedom, and for many home cooks, that means independence from a hot kitchen and endless pots and pans. It's also a great time to make the most of the season's bounty, including fresh herbs straight from your garden and sweet summer fruit. 
Chimichurri
Argentineans know steak, and when they decide that marinating and smothering their steak in a bright green garlicky sauce is a good idea, you know it must be true. Fresh herbs such as basil, parsley and oregano, which you can pluck straight from your garden, add a fresh touch while lots of garlic adds the bite. A soft tortilla makes a great vehicle for wrapping up the sliced steak in a neat package.
GRILLED STEAKS WITH CHIMICHURRI
PORTOBELLO CARPACCIO WITH CHIMICHURRI
For the vegetarians the chimichurri is equally delicious on some grilled mushrooms. 
One more option for a grilled steak with the same herbacious sauce. 
A dish with this much flavor needs a drink to match. Try pairing homemade sangria,  a traditional Spanish punch, featuring fruits that you macerate (marinate) in either red or white wine.  For fruity red sangria include red grapes, plums, oranges and cherries with your favorite Cabernet Sauvignon or Zinfandel.  For white sangria use a crisp Pinot Grigio and add green grapes, honeydew melon, lemon and peaches.  To give your mix a pop, incorporate ginger ale, club soda or Sprite.
9 Sangria Recipes that Pack a Punch
Celeriac
Celeriac (aka celery root) is an alien-looking vegetable, which suffers from an identity crisis.  It has a taste similar to celery, with the texture more like a carrot. This celery root slaw is a great combination of ingredients with the crunch of the granny smith apples lending a tart contrast to the subtly sweet celery root.  Make it the day before your BBQ and you'll be rewarded with a more pungent flavor and easier day-of prep.
Apple, Celery Root and Kohlrabi Slaw
Grilled Angel Food Cake with Peaches
This easy to bake cake can be made from a mix or even store bought before grilling with fresh fruit capturing that just picked summer fresh taste.  Peaches are one of those fruits that jump out of the orchard bushel and into your grocery cart when they are at their peak. They should be firm to the touch, but smell sweet and ripe. In the fall, try making this with crisp apples.  Follow the harvest and tailor this recipe to whichever fruits are in season.