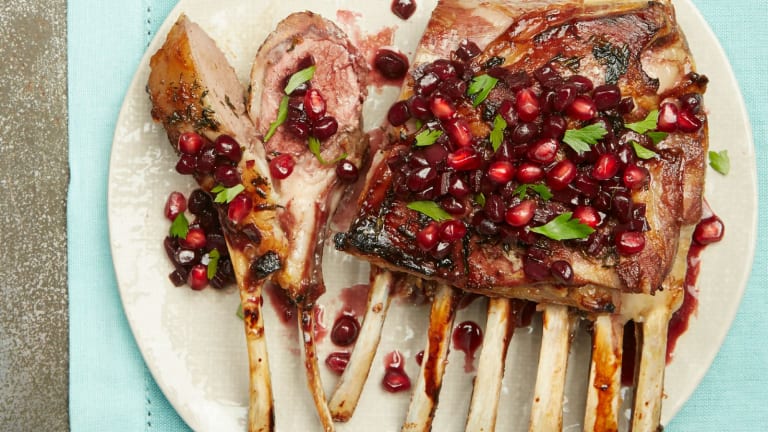 My Passover Faves
Every year at this time I usually put together a list of my favorite Passover recipes for you.  You can find some of my favorite collections from previous years here and here.  This time around I thought to feature some of my favorite recipes from some of my favorite foodie friends – so you can be inspired by the food and folks that inspire me.
This list is by no means exhaustive and highlights just a fraction of the over 1,000 kosher for Passover recipes on our website.   My selections are based on taste and beauty – since we eat with our eyes first!
Alessandra Rovati
Not only is Ale a kind person she is a gifted food writer and recipe developer.  Last Passover her Roasted Lamb graced the cover of our magazine and in the 5 years of publishing the mag this cover is one of my absolute favorites to date.
Alessandra Rovati was born and raised in Venice, Italy, and has had a passion for food since a very young age (she is said to have feasted on garlic and chili-marinated herring at 15 months – WHAT?!). Alessandra writes about Kosher and Jewish Italian food and teaches cooking; she also posts free recipes and how-to's, offering a glimpse of Jewish Italian culinary history, on her website, Dinner in Venice
Roasted Lamb with Pomegranate and Wine
"This roasted lamb rack is braised and made extra succulent by using honey to lock in the moisture. The pomegranate Syrah sauce makes it even more special for a Holiday meal." - Ale
"Only the Pacific Turbot and Diamond Turbot are kosher, not the "European" turbot! (Otherwise, halibut and John Dory would work well.) Turbot needs to be cooked slowly at a lower temperature (350°F). Serve on a plate of braised fennel, blanched chard or steamed potatoes with olive oil." -Ale
"Slow cooking is wonderful for tougher cuts of meat, and brings out their juiciness without the addition of fat. It's also the way to go with beans! My grandma's neighbors used to stuff beans together with water, garlic and sage inside an empty Chianti bottle (the type with a rounded belly) and bury the base of the bottle in hot ashes in the fireplace overnight. The gentle heat of the embers was enough to cook them to perfection, and I've never tasted anything more delicious! This ancient recipe for stew is said to have been created by Florentine tile makers working at the famous cathedral in the early 15th century. What a clever idea, cooking a filling meal side by side with the tiles in their furnace!" - Ale
Click here for more recipes from Alessandra Rovati.
Naomi Nachman
Naomi is another one of my favorite people.  Her love of food and boundless energy comes across in absolutely everything she does – and especially on her signature and sensational radio show Table for Two with Naomi Nachman on the Nachum Segal Network. She always invites Tamar, Shifra and I on to discuss the latest and greatest in the JoK world – and for that we are ever thankful.
Naomi only wears a bajillion hats.  In addition to her radio show she is a personal chef, party planner, cooking instructor, mother and has started a number of culinary arts programs for various organizations.  Originally from Australia she is known as the Aussie Gourmet, and so much more!
Silver Tip Roast with Fragrant Red Wine Sauce
"Slow cooked roast is easy and fool proof, enjoy for a festive Shabbat meal." – Naomi
Nut Crusted Salmon with Creamy Chrain Sauce
"Passover recipe for salmon that could be a main or first course, this is made with pistachios, but any nut would do." –Naomi
"This is one of my favorite Pesach dessert recipes that I handpicked from Gatherings, a cookbook published by Netivot HaTorah Day School, and available through Feldheim Publishers." - Naomi
Pavlova with Grilled Pineapple
"Pavlova is a traditional Australian dessert . My version is perfect for Pesach—it's also been my own favorite since childhood." - Naomi
Click here for more recipes from Naomi Nachman.
Sharon Lurie
Sharon Lurie is a gem.  A frequent writer for both our site and magazine I first met her in person at Kosherfest last year and we hugged immediately.  She has invited me to be a guest on her radio show in South Africa many times. And I am not sure she even knows this but last year when she interviewed me for my new JOY of KOSHER cookbook, I actually did the interview from a midtown Manhattan restaurant bathroom! (I was on the road, in between meetings and needed a quiet place - OY!)
Sharon is a real life "Kosher Butcher's Wife" - author of Cooking with the Kosher Butcher's Wife,  and Celebrating with the Kosher Butcher's Wife,  so quiet naturally she is one of our go-to meat experts!
So what else am I going to showcase from Sharon other than beef?  Although you should know this lady can bake up a storm too! Some people just have all the luck.
BBQ Beef Ribs with Monkey Gland Sauce
"This sauce will really have you covered for almost anything on Pesach. You can cook your ribs, roast and brisket in it or simply spoon it over, steak, schnitzels, burgers, and chops. It's great with everything - Ok maybe not ice cream!! For the same amount of work I would double up on this recipe, it will be worth it!!" - Sharon
"On a recent trip to New York my husband chose a low and slow roasted piece of deboned top rib with mashed potato which he said was superb and melted in his mouth. Although confused as to why he didn't choose a steak, I have to admit it was delicious. So naturally, upon returning home, I started experimenting until I received the "thumbs up" from the Lurie Jury so here goes." - Sharon
"These ribs can be fresh or smoked, whichever you prefer. I prefer smoked! Either way the sauce makes them sticky and fun to eat." - Sharon
Click here for more recipes from Sharon Lurie.
Tom Franz
After Tom Franz won the coveted title of "Master Chef" during the 3rd season of Israel's version of the American culinary hit TV his unique and fascinating story plastered the pages of Jewish papers around the world. Franz, 40, was born in Cologne, Germany into a Catholic family. After years working as an attorney in a prominent international law firm in Germany, he moved to Israel and converted to Judaism. On Master Chef Israel he fulfilled his vision and passion to create sumptuous gourmet KOSHER dishes.
I invited Tom to star in a super special Joy of Israel episode at the City of David.  In front of a live audience he showcased recipes inspired by the 7 superfoods of the bible aka shivat haminim.  When we shot the show not only did I have the pleasure of meeting Tom in person but also his wonderful wife Dana – who I am lucky to count as a new friend.
Tom recently completed his first cookbook for the German market which highlights his life story alongside his favorite recipes from Israel.
Fennel Cream Soup with Caramelized Fennel
"When it comes to fennel, you either do or don't like it. I really like it. Especially now when the season starts. It's is a wonderful vegetable with a multitude of uses and is very suitable for chicken, fish and rich vegetable dishes. This soup is a perfect way to open up the holiday meal- it's light and delicate, yet distinctive and unusual. The addition of caramelized fennel also gives a festive dimension to the soup, if it's too much of a fuss for you, skip it, and just sprinkle some toasted almonds and a drizzle of olive oil for color." Tom
Israeli Salad of Oranges and Black Olives
"I love this salad because it offers a unique and surprising combination of flavours. The use of Harrisa creates a deep and spicy taste (Harrisa is a paste of dried sweet pepper pods, you can buy in special food stores or make it yourself and enjoy it in sandwiches, sauces etc. recipe below). Another way to fancy up this salad and turn into a full first course is by adding olive oil seared slices of fresh sea fish of your liking." - Tom
Click here for more recipes from Tom Franz.
Center for Kosher Culinary Arts
Director Jesse Blonder invited me to teach at CKCA about 7 years ago, after I published my first book.  Since then we have collaborated on so many projects including hosting the uber popular Kosherfest Chef's Competition and developing mouthwatering recipes for our magazine.  The following 4 desserts created by Lynn Kutner on behalf of CKCA are on par if not better than any Passover dessert from the finest restaurant.
Italian Meringue Coffee Dacquoise
Moelluex au Chocolat - Chocolate Volcano Cake
Click here for more about CKCA.
Shifra Klein
I could not be more obsessed with our talented magazine Editor-in-Chief's DIY fruit-filled popsicles.  Her creative combinations are creamy, cool and simply exquisite.
"Enjoy these popsicles for dessert or a quick snack. You can use any popsicle molds you desire or you can simply freeze these recipes in cups inserted with popsicle sticks.  Start with these flavors and then go on to try your own, you will learn you can "Let It Go" and you can't get too far off the frozen path." - Shifra
Happy Kosher Sweet Passover.  Chag Kasher V'Sameyach!