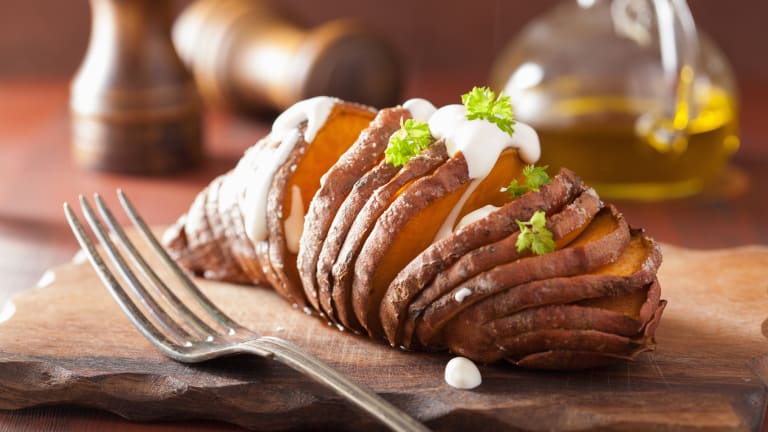 Health Benefits of Sweet Potatoes Plus Recipes
The sweet potato is called a superfood for good reason. 
Sweet potatoes are super nutritious vegetables that are easy to love.  They are most well known for the high amount of vitamin A, in the form of beta-carotene and indicated by their colorful orange flesh.  
MORE: Healthy Superfoods You Weren't Expecting
Sweet potatoes are also good sources of vitamin C, manganese, copper, pantothenic acid, and vitamin B6. They are also high in fiber, potassium, niacin, vitamin B1, vitamin B2, and phosphorus.  Whoa, that's a mouthful!!!  
They are a carbohydrate, as are all vegetables. An average sweet potato has about 26 grams of carbs, which is why it is extremely filling too.  While many people are afraid of carbs, the truth is that there are good carbs and bad carbs and sweet potatoes are good carbs.  The trick is to enJOY the natural sweet goodness of the sweet potato and avoid adding lots of sugar and fat. 
MORE: Why Not To Be Afraid Of Carbs
Sweet potatoes are inexpensive and versatile; we love to mash them, roast them, spiralize them, and grate them. If you have other ways to cook sweet potatoes please share them in the comments. 
My latest obsession is doctoring up the baked sweet potato.  Sometimes I just slather it with some Greek yogurt, other times I top it with lots of zaatar, and sometimes just a little salt and maybe a teaspoon of butter is all it needs.  
MORE: The Sweet Potato Casserole Gets a Makeover
Never throw away the skins. They are high in fiber and other nutrients so even if you are making mashed sweet potatoes I recommend baking them up, reserving the mash, and enJOYing the skins. The version below makes them into a meal by adding kale, blue cheese, and nuts. 
Check out all my favorite recipes for sweet potatoes. 
The Best Sweet Potato Recipes