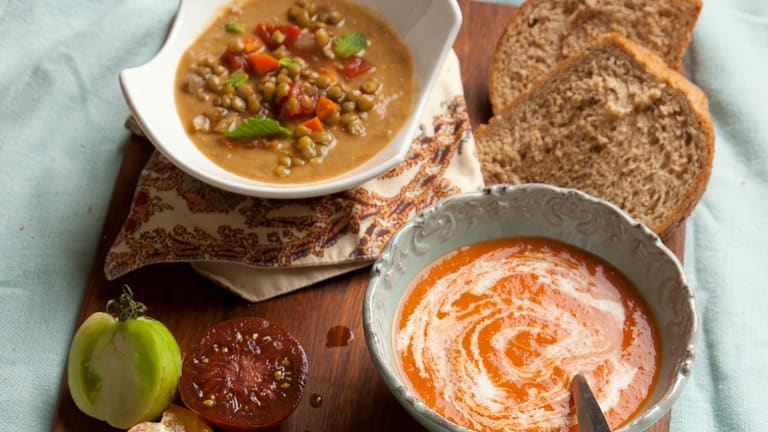 Hearty Fall Soups
Autumn is my favorite season. I love the crisp cool air and the way the sunlight casts shadows. I especially love the clash of seasons at the farmers market. It happens almost overnight. One day there are berries, tomatoes, peppers, and eggplants of every shape and size piled high in the stalls with their flashy colors and seductive potential, and then, very suddenly, knobby and warty squash, pumpkins, onions, and those amazing mushrooms muscle their way in. I notice my customers' habits changing as well. Suddenly everyone is actually hungry. Summer's dainty appetites are replaced with something a bit heartier.
I really look forward to soups, making them and eating them. They remind me of my favorite sweater taken out from summer storage, cozy and familiar, like an old friend. Autumn is in the air and it is comfort food season. There is nothing more comforting than a big bowl of delicious soup. Like a great book or your favorite dining companions, soup is complete on its own. You do not need much else. It is the ultimate dish. 
Soups can be divided into 2 types. Creamy thick soups such as: purees and bisques. Or, thinner broths and stocks with vegetables, meats, grains and other goodies, floating around in it! There you have it. Soup demystified!
Soup Thickeners
Flour and cornstarch are reliable but a bit old school methods of thickening soups and stews that don't add flavor or nutrition. We can do better than that!
Modern cooks use potatoes (sweet and russet), canned or fresh pumpkin, cashews (these versatile nuts cook up creamy and neutrally flavored), pureed beans, tomato paste, roasted garlic, cooked rice and vegetable purees. Add flavor and thickness to your soups and stews with one of these thickening agents.
Garnishes
A bowl of homemade soup is beautiful to behold, but why not embellish it with fresh herbs, croutons, popcorn (yes, popcorn on tomato soup is fun!), homemade crackers, a drizzle of good evoo, toasted grains, paprika flavored oil*, sauteed smoky olives and more. 
There are two basic types of soups. Creamy, pureed soups with all the comfort of fuzzy slippers, and then there are soups with vegetables and sometimes meat floating in them. Both types of soups start the same way, with stock. I teach cooking classes all over the country and am often asked how to make the perfect chicken soup, as well as about the differences between broth and stock.  Read here for the difference between stock and broth and how to make them. 
Here are some delicious soups to start cooking right now. 
My favorite vegetable soup starts with fresh in-season vegetables. I like crisp, market fresh vegetables and tons of herbs all swimming together with tiny bits of slow braised beef. My favorite vegetable soup has so much texture, riotous color and flavor that each spoonful is pure heaven.
I have served this soup in my restaurants and in my home for years with rave reviews all around. The secret is the slow braised beef building flavor in a rich stock and then beginning the soup with a sofrito (aromatic vegetables) base. The sofrito is cooked until the vegetables have caramelized. The rest of the vegetables are added and the soup is simmered quickly to keep the vegetables very brightly flavored and colored.
MORE: Bone Broth Health Benefits and Recipes
I stir in an herb puree at the end that oomphs up the flavor. When I have served this soup to vegetarians, I use vegetable stock instead of chicken stock and use a combination of dried and fresh mushrooms to amp up the flavor. I am not sure why anyone would make vegetable soup when it is not vegetable season. A soup that relies so much on fresh vegetables should be made during that season. This soup is best made in the late summer and early fall when gardens are bursting with produce. As the season changes and new vegetables come into season, add in your favorites. This soup can be made pareve by substituting the beef base with vegetable stock. 
As the weather turns cooler, I look forward to a heartier soup. Lentil soup is perfect for chilly nights. I love the peppery, earthy flavor of the lentils. Pair them with sweet caramelized onions, fresh herbs and toasty curry spices.
MORE: Chicken Pho Recipe
Tomato soup is one of my favorite soups. I love the sweet and slightly acidic tomatoes blended into a creamy puree. I like to make tomato soup at the end of summer and early fall. The tomatoes are fresh, plump and loaded with flavor. Tomato soup made with fresh tomatoes has bright flavor that cannot be duplicated from canned tomatoes. I like to make a large batch and freeze the soup so I always have a meal ready to go.
MORE: All The Wonderful Things You Can Do With Broth
My kids grew up with my whimsical tomato soup garnishes. I vary the soup by garnishing it with: micro mini-grilled cheese sandwiches, cheesy popcorn, Parmesan crisps, fried cheese, fried tomatoes, macaroni and cheese bites, basil pesto and more. Each kid had their favorite bowl of tomato soup and would make requests. A lot of good family memories have been built around meals, and comforting and fun soup makes for a great but simple dinner, lunch or snack.
Get more soup recipes here: