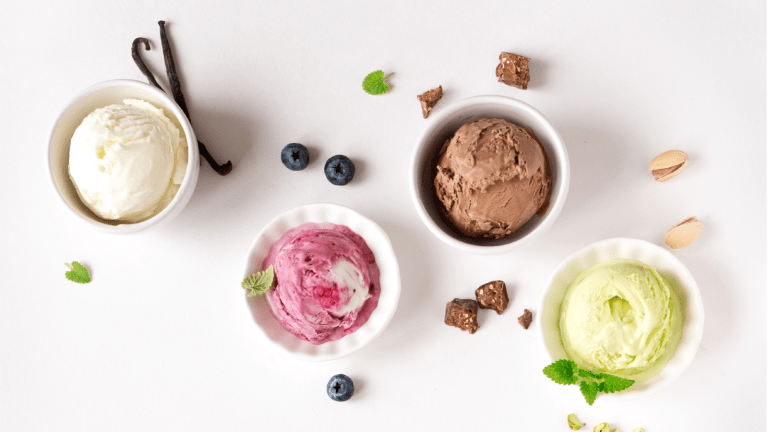 Ice Cream – The Ultimate in Comfort Food
They say that chicken soup can heal a cold and mend a broken heart, but I beg to differ. When you need real consolation, there's nothing like digging into a tub of cookie dough ice cream. And everyone knows that confidences shared over a double scoop of rocky road will bond friends forever.
It's funny how ice cream conjures diverse thoughts. It speaks of indulgence and calories, of hot summer nights and childhood dreams. For me, just looking at an ice cream cone immediately evokes memories of birthday parties and summer celebrations.
I always loved ice cream with chunks of stuff in it – brownies, chocolate chips, almonds -- the more the better. In high school, my friends and I used to stop at the local ice cream shop and get soft serve ice cream. Whenever we were on a health kick, we ordered "fro yo" (frozen yogurt) and mix in granola, pretzels or fruit.
Now that I'm all grown up and creating my own recipes, I've taken that fro yo treat and given it my own twist. With all due respect to your favorite frozen dessert, be it Ben & Jerry's or Haagen Dazs I do think my Quick & Kosher Fro Yo has a real shot at being a new fav.  Try Mango Vanilla Frozen Yogurt, a delectable treat with less calories than ice cream -- so you can feel indulged but virtuous at the same time!
Of course, you can use any brand or flavor of your favorite frozen yogurt or (low fat) ice cream and your favorite fruit in chunks, fresh or frozen – then top it with a crumbled graham cracker or granola for a super crunchy finish.  I also love my ice cream with grilled fruit and streusel as you can see here:
Sundaes are my go-to comfort food that's always ready to eat. Cone or bowl, with sprinkles (we call them jimmies in Philly), hot fudge, whipped cream, cherry on top – what's your style? 
Leave a comment and let me know, here are some homemade flavors for you to try from healthy to indulgent from non-dairy to full of dairy: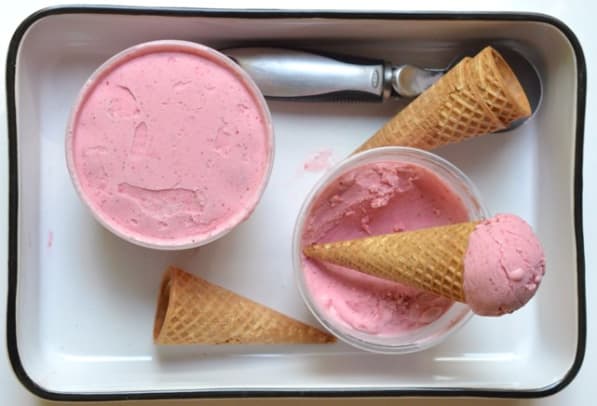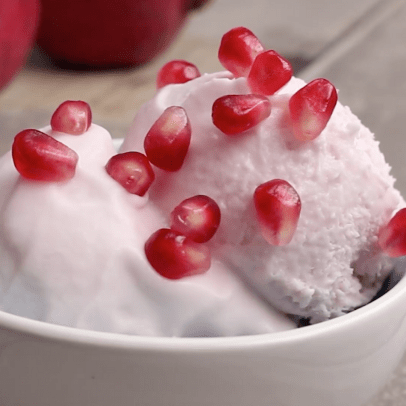 Enjoy these ice cream flavors with your favorite toppings or choose from one of 16 Summer Sundaes.