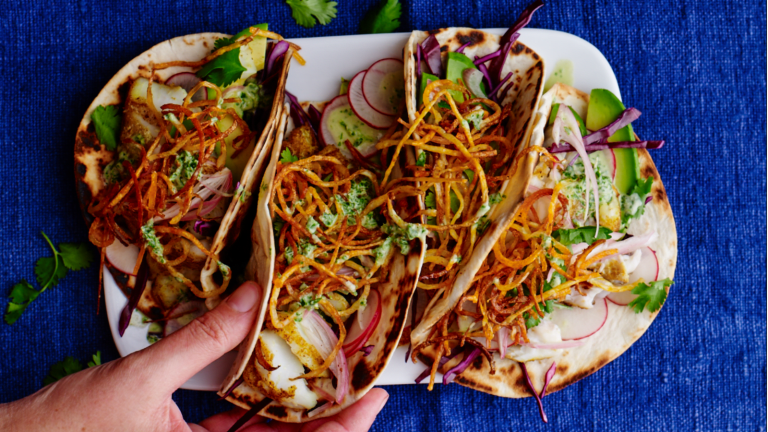 Israeli Mexican Fusion
Living in Israel for almost seven years, I can say that the number one cuisine Israel can't get right is Mexican. The supermarkets are limited in their product offerings, and I have found myself importing everything from corn tortillas to a selection of dried chili peppers and my favorite chipotle in adobo to be able to create more authentic Mexican recipes. As to the local restaurants, several fast-food chains serve "Mexican" food, but they are all basically Israeli food with some salsa and guacamole added, so they can call it Mexican.  
Tacos with corn tortillas are pretty hard to come by, at least where I live in Beersheva and what they call nachos here are simply chips and salsa. But things are changing; thanks to a small Jewish Mexican community and a company called Tres Pesos offering delivery throughout the country, I can now get many of my favorite Mexican foods and ingredients. 
This year Israel's Independence Day falls on May 5th, which happens to be Cinco de Mayo. To celebrate the confluence of events, here are some Israeli Mexican fusion recipes. 
What makes this mango margarita Israeli? The uniquely flavored Za'atar salt rim. 
These nachos use the Israeli lavash flat bread in place of the Mexican corn tortilla chips and schug instead of salsa.  
I am not sure how authentically Mexican 7 Layer dip is (probably not at all) but this Israeli version is still a nice twist on what Americans serve as Mexican food. 
The flavors of shawarma are amazing on fish, in this version we turn them into Mexican tacos, the ultimate Israeli Mexican Fusion recipe. 
Otherwise called Huevos Rancheros, this Mexican flavored Shakshuka shows the fusion between Israeli and Mexican cuisine in a traditional way. 
Israeli bourekas are the country's answer to portable savory pastries served at every occasion.  Stuffed usually with either potatoes, cheese or mushroom, this version uses a typical burrito filling for the Mexican Boureka adaptation. 
Baklava is found all over Israel brought from all the neighboring countries around the Middle East it is a sweet delicacy that comes in many shapes and sizes.  For this version we made it super easy using pre-made puff puff pastry and baked them in stick form resembling the Mexican churro which are also coated in cinnamon and sugar.  
The perfect ending to our Mexican Israeli feast. Next I am going to work on Mexican Street Corn with Sumac and Falafel Tamales, what are your Mexican Israeli recipe ideas?