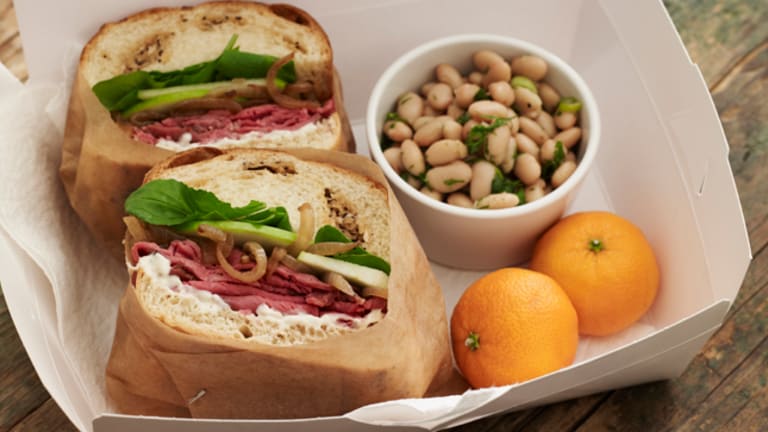 Jamie Geller's 8 Tips for a Fabulous Fall Picnic
Beautiful autumn days are great for hiking, apple picking, visits to the pumpkin patch, and drives in heavily wooded areas to appreciate the magnificent colors of the fall foliage.  It's the ideal time for a picnic lunch – so do it right!
Here are my 8 Tips for a Fabulous Fall Picnic!
Tip #1 – Use this Handy Checklist
Make sure you pack the essentials:
blanket (or disposable tablecloth if there will be a table)
water & paper towels for washing, if you're serving bread
napkins
(paper/plastic) plates & bowls
(plastic) cutlery
serving utensils
cups (including hot cups)
wine glasses (Why not – especially if you've left the kids at home!)
corkscrew or bottle opener
paring knife
cutting board
condiments
damp wipes or cloths for washing up
garbage bags
benchers
Tip #2 – When in Doubt, Throw it Out
Practice the same food hygiene with a fall picnic as you would with a summer picnic.  Throw away any perishable food that's been out of the cooler for more than an hour.
Tip # 3 – Make it Warm & Cozy
Don't shy away from warm soups and beverages.  Since the weather may be chilly, there are a lot of great hot food options to make a fabulous fall picnic.  Fill a thermos with my delicious Butternut Squash Soup for a great first course.  Bring another thermos with either a mulled apple cider or hot chocolate (parve, if serving meat).  Don't forget some marshmallows to top off the hot chocolate for a treat the kids will love!
Tip #4 – It's a Wrap
When it comes to main courses, sandwiches and wraps are perfect as they're hearty and easy to hold.  We even created the perfect sandwich for a fall picnic!  Try this Roast Beef Sandwich with Apples, Caramelized Onions and Horseradish Mayo.
Tip #5 – If You Need to Make it Kid-Friendly
Let's face it, what you like to eat might not be what your children would want.  That horseradish mayo on the roast beef sandwich could be a bit sharp for their tender palates, so you can use regular or light mayo.  And you can always go with tried and true favorites while making use of your Shabbos leftovers: the kids will love tuna fish and potato chips on challah bread sandwiches, or schnitzel on challah (see below); or Southern Style Baked Chicken drumsticks.  If you think your kids won't appreciate warm apple cider, bring some juice packs instead.
Tip # 6 – Say Cheese
If you want to stick to dairy, there are some delectable kosher cheeses that will pair beautifully with your wine.  Of course, if you've brought the kids along, chuck this idea and go back to tip #5.
Tip #7 – Don't Shlep
Portability is key, so make sure you select great side dishes that fit nicely in individual containers.  Cold pasta salads and grilled antipasti are great sides paired with wraps and sandwiches.  Try my white bean Salad [it goes great with that roast beef sandwich!]  And how about Israeli style pasta salad, Warm Pepper and Craisin Salad, Arugula and Pear Salad, Fennel and Cucumber Salad, and Beet Salad?
Tip #8 – Don't Mess Around with Fancy Desserts
Leave the chocolate mousse, trifle, and glazed cakes at home.  Keep the mess to a minimum and opt for dessert treats like cookies, bars, and blondies.  Try these recipes for Chocolate Chip Cookies, Classic Oatmeal Raisin Cookies, Caramel Brownies, or Date and Fig Bars, which are fab picnic desserts.  Seasonal fruits like apples and pears are also great for dessert.  Skewer them to make fabulously fun fruit kabobs!