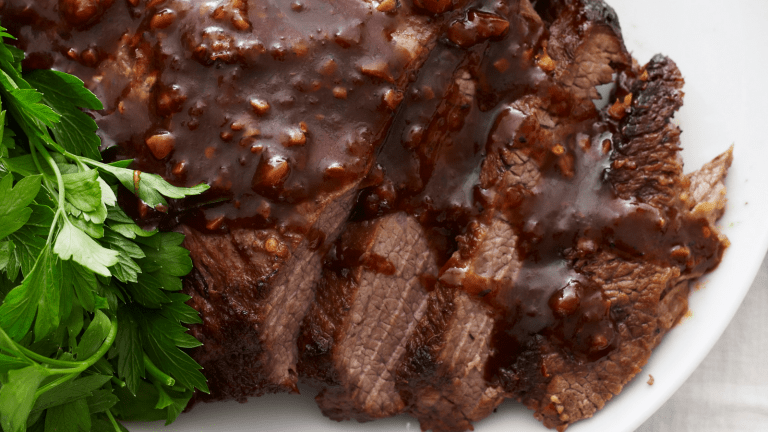 7 Tips for Prep Ahead Shabbat Meals/Recipes
Dear Jamie,
I was hoping that you might want to focus on Shabbat meals - specifically, those that can be prepared in advance and rapidly warmed for Shabbat. I plan for Shabbat from the beginning of the week and don't have time to prep on Fridays. (PS – I love the cookbooks.)
Thanks,
Michael
Hi Michael,
This is such a great question. Cooking for Shabbat is a challenge because you want your food to taste fresh, not be dried out or killed by the blech/hot plate/warming drawer/warm oven – whatever method you use. Even the best of the best recipes are not all suited for serving on Shabbat when you consider the need to cook in advance, throw it in the fridge, and then rewarm under unconventional circumstances.
Here are a few tips (my own, cherished, personal guidelines) that will help. Follow these, and you'll be so proud of your Shabbat food.
(*Quick Note: there are many halachos involved with heating and reheating foods on Shabbat and differences between Shabbat Night (which enables you to place foods with liquids directly on a blech/hot plate or in a warming drawer prior to the onset of Shabbat) and Shabbat Day (which prohibits the rewarming of foods in liquids and in many cases requires the need for a 2nd tier/added layer between your food and heat source). For a more detailed explanation of some of the basic laws please refer to this post from Rabbi Lawrence)
1. Brisket
There are few cuts of meat that can handle the back and forth of oven, fridge (even freezer), hot plate. The brisket is one baby that not only can do it, but is better for it. It's best to prepare it, refrigerate it overnight and slice it cold the next day. Submerge it in the gravy and re-warm; or return to the fridge or freezer until you are ready to re-warm and serve. Enjoy these Brisket recipes:
Beer-Braised Brisket
Garlic Honey Brisket 
Pomegranate Braised Brisket
Brisket in Wine Sauce
Overnight Brisket
Brisket with Dates and Wine
For more brisket recipes click here and how to turn brisket leftovers into rightovers, click here.
2. Red Meat
Like the brisket, any cuts of meat that are completely submerged in liquid and that become softer the longer you cook them are great for Shabbat night. I have a great recipe for Asian Steak that uses 1-inch thick bone-in chuck steaks – not an expensive cut of meat by any means – and the longer they cook, the softer and more tender the meat becomes. It also freezes beautifully. Flanken and pot roast recipes are two more good examples of great make-ahead cuts. Meatballs (cocktail or entrée sized) are another wonderful prep-ahead & freeze choice. Make sure they're completely submerged in their sauce and you're good. But be sure to let them defrost (if frozen) before rewarming them in a heavy-bottomed pan over the lowest heat, stirring occasionally to prevent burning. Here are some great prep-ahead red meat recipes:
Sweet and Sour Meatballs
Cocktail Meatballs
Chili with Pulled Pot Roast
Instant Pot Braised Pot Roast
Hearty Beef Stew
For more Meatball recipes click here.
For more Pot Roast recipes click here.
3. Chicken
Two keys to making terrific chicken for Shabbat:
1. Don't overcook it. If it's already dried out, you can't save it. Most everyone overcooks chicken, especially the white meat.
So here's the deal: a 3 pound chicken in eighths should take about an hour to cook at 375°F uncovered. The white meat – anywhere from 45 minutes to an hour depending on the size; the dark meat pieces – about 1 hour to 1 hour and 15 minutes tops. 
A few tricks here: place the white meat pieces in a different baking pan so you can remove them earlier. Cook them for the majority of the time upside down; turn them right side up for the last 10 to 15 minutes to evenly brown the skin.
2.  Be careful when rewarming chicken.  When you rewarm the chicken, allow it to come to room temperature first, and then don't over-dry it when rewarming. If you use a warming drawer, don't put it in prematurely. If you use a blech/hot plate, place the chicken on a second-tier (always on a 2nd tier Shabbat day) so it doesn't burn or get too much heat. Remember, you're just warming it, not cooking. 
If you're too "chicken" to try this with white meat, you could use only dark meat chicken for Shabbat; it has an added layer of (fat) juicy protection. When working with cutlets, follow the same tips as above. You have the option of serving these at room temp if you like. Sure-fire Shabbat chicken recipes you'll enjoy (provided you follow the tips above!):
Chicken Thighs with Roasted Winter Fruit 
Chicken with Apples
Speedy Coq au Vin
Honey Chicken
Date Glazed Roast Chicken 
Coconut Chicken Fingers
Grilled Chicken Thighs
For more chicken recipes click here.
4. Soups, Soups, & Soups
Soups are a fantastic make-ahead course. I actually make soup only 3 to 4 times a year. I cook about 30 quarts of each of my family's favorites and freeze them in individual 2-quart containers (and even a few 1-quart containers.) That way, I can take out whatever amount I need, depending on the amount of company I'm expecting and they can sit on the hotplate without effect until needed on Shabbat night. Also, consider chilled soups for Shabbat day. They last nicely in the fridge and they're ready to serve. Keep in mind that chilled soups are not only fruity and not just for the summer. Try these traditional and chilled soups:
Mango Strawberry Soup 
Classic Chicken Soup
Asian Shiitake Mushroom Soup 
Chilled Pea and Mint Soup
Vegetable Barley Soup
Carrot Ginger Soup
For more soup recipes click here.
5. Salads
I am always my own sous-chef – if I can't commandeer Hubby. I wash, check, and cut my lettuce in advance and keep it in a salad spinner/crisper so it's ready to go. In fact, I cut all my veggies and store them in the fridge in separate containers for easy salad assembly just before serving. (Hey, all the restaurant chefs have sous chefs. Why shouldn't we?) And I usually double, triple (and even) quadruple my dressing recipes, so I have a big batch on hand for a few weeks' time. I keep that in yet another container so I can assemble a fresh salad and dress it quickly just before serving. No soggy salads for us! Most leafy green salads are a one-way ticket once dressed; you can't go back.
Check out these recipes:
Pomegranate, Orange, Papaya and Kiwi Green Salad 
Strawberry and Mango Salad with Citrus Vinaigrette 
Spinach Salad with Pomegranate Dressing
Asian Salad with Carrot Ginger Dressing
Then there are those salads that just get better with age – the ones that benefit from marinating in their dressing to allow all the flavors to marry nicely. They can be made 1-2 days in advance. Just remember to slice in avocados if called for just before serving. One more hint: most salads are best served at room temperature unless otherwise specified in the recipes. This allows all the flavors to emerge. Try these make-ahead winning salad recipes:
Israeli Cabbage Salad 
3-Ingredient Carrot Salad
California Avocado Salad
Cucumber and Black Bean Salsa Salad
For more salad recipes click here.

6. Sides
I find any potato sides are absolutely best made as close to serving as possible. They benefit from the crispy finish generated by oven cooking vs hot plate re-warming.
The exception is potato kugel, which can handle both prep ahead and fridge time.  If at all possible, allow roasted potato dishes to crisp up again in the oven before placing in a warming drawer or on a hot plate to keep warm. (Of course, this only works on Shabbat night and is the main reason I serve those types of dishes Shabbat night.) But even here watch that you're potato dishes don't dry out. I save the kugels for Shabbat day. Kugels are so popular because they re-warm very nicely – and aside from potato kugels (am I drilling in my POV here?) -- freeze quite nicely as well. Noodle kugels, Challah kugels, and vegetable kugels (broc, spinach, zucchini, butternut squash, etc.) all fare well in both the fridge and freezer. Maybe that's the reason kugel is such a Shabbat-y food – I mean, when's the last time you made a kugel to serve on a Tuesday night? Try these make-ahead kugel recipes:
Salt and Pepper Kugel with Roasted Garlic 
Broccoli Kugel 
Sweet Kugel with Dried Fruit
Potato Kugel Cups 
For 67 more kugel recipes and ideas click here.
And when it comes to veggies, green beans are my fave Shabbat choice. They hold up best from fridge to blech. Again, just make sure not to overcook them initially. In fact, I usually prep them a drop under – until barely tender with still a bit of a crisp bite – and then rewarm them on the blech on a tier (whether serving them night or day). If you use a warming drawer, don't put them in prematurely. Get 'em warm and keep 'em green; not piping hot, soft and soggy. Try my favorite green bean recipes:
Green Beans with Three Onion Sauté
Baby French Green Beans with Slivered Almonds
Green Beans with Walnut and Green Olive Tapenade
For more green bean recipes click here.
7. Desserts
The ultimate make-ahead dish. Of course, any freezer desserts are perfect to prep ahead, in fact, designed so. Cakes, muffins, cookies all do well in a cake plate or covered container for a few days, or even in the freezer and then defrosted. The trick is not to lock in moisture. So let any baked goods cool completely before covering or packaging and freezing. I use freezer bags, not foil. Another tip: when you pull it out of the freezer – if the bag has condensation inside, take the goods out of the bag and allow to defrost before placing in a new, clean, dry bag or covered cake plate. Try these great dessert recipes:
Caramel Pear Lattice Pie
Carrot Apple Mini Cupcakes with non-dairy Cream Cheese Icing
One Bowl Amazing Chocolate Cake
Peanut Butter Chocolate Chip Mousse Pie
For more dessert recipes click here.
So now you're all set! With these recipes, you should be able to start cooking for the next 10 (or at least 7) Shabbatot.