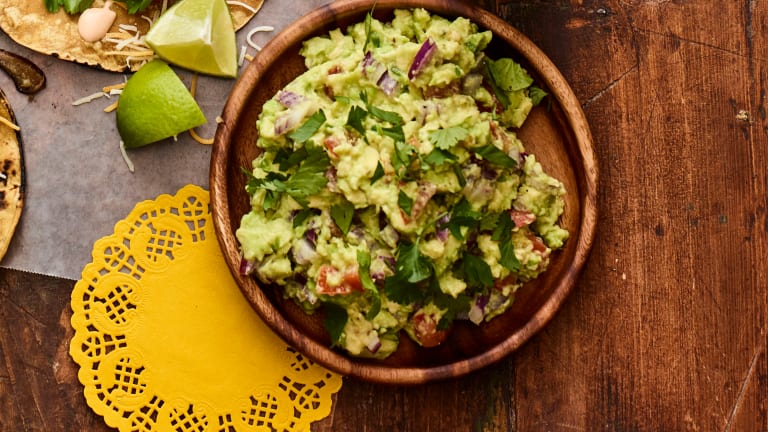 Ask Jamie Geller: What Do I Serve My Guests On Game Day?
Dear Jamie,
A crowd is coming over to watch the game at my house on Sunday. How can I prepare and what should I serve?
Stacey, Queens
Hi Stacey,
In honor of the MLB Playoffs, here are 9 tips (one for each inning) on how to host folks for the big game.  You can use these for football or hockey too, of course, not to mention cricket, polo or Olympic luge.
The Warm-up
Before you even sit down to plan a menu, make sure your house is set up to accommodate all of your guests. If you don't have a large screen TV, consider renting one. If they are coming to your home to watch a game, everyone must be able to see the TV.
Comfortable Seating
Make sure you have enough comfortable seating in the house for everyone. It's okay to assume that little kids will happily sit on the floor, but the game can be long and adults want to be comfy. If you don't have enough couch space or cozy chairs, borrow from your friends. This should be done the night before, so that the room can be all set up by game time.
Kid-Proof the Whole Place
Make sure to put away anything valuable that you wouldn't want broken. If your guests will include young children, they will probably run around the house more than watch the game. While I'm blaming the little kiddies for this caveat, the truth is that the big kids, aka adults watching the game – especially when they get excited – are liable to jump, stomp, scream and swing, not noticing your blown-glass vase on the mantel.
Then Keep the Kids Occupied
You don't want a bevy of bored children wreaking havoc in your home. Make sure you have plenty of activity options available. If the weather is dismal, a great indoor activity is cupcake decorating! Bake mini-cupcakes in advance of the game and set out icing and edible decorations. The kids can decorate them with sports themes or anything else their little hearts desire.  It's a win-win activity that the kids will love -- and then they even get to eat the finished product! (Anyone out there not like a sweet edible project?)
Paper Beats Porcelain
Game day is definitely the wrong time to bring out the china set you inherited from your grandmother. Save your beautiful dishes for Shabbos and stock up on paper goods. You can even find sports-themed selections, so you can match your plates to the game – but don't expect the guys to notice.
What Can I bring? Glad You Asked!
My favorite tip of all time: delegate. 
Some hosts like to run the entire show – soup to nuts – and cater to their guests. To these people I say: more power to ya!  But most of us want some additional help, so feel free to ask your guests to bring something. It could be a favorite drink, an easy-to-make side dish, even a dessert. Most people – especially if they're you're friends -- realize that hosting a crowd is a big deal, and they want to help out.  Remember though, the host/hostess is always expected to prepare the main dish. The rule of thumb is if the party's at your place, you're bringing the chicken!
The Cool Down
Ice, ice and more ice, baby. You'd be surprised how many people forget the ice when hosting a party. But, since you'll probably have more drinks than refrigerator space, make sure to stock up on loads of ice in advance. It's also helpful to get a cooler to store the drinks in the viewing room, so you aren't running back and forth to the refrigerator each time a bottle is emptied. Enlist the help of your kids and have them decorate the cooler with their favorite team's logo. It will involve them in preparing for the party, and will keep them occupied while you're busy getting everything else ready!
Plan a Finger-Lickin' Menu
It's a misconception that you can't watch the game without a giant hoagie and lots of beer. As host, you can serve anything you want. Finger foods are the best option here, people, because they can be cooked and prepared ahead of time (Who wants to be stuck in the kitchen when all the action is happening out there?), they're easy to eat, and create less mess. And no matter how good your food is, supply your guests with nosh – pretzels, potato chips, and crackers. Feel free to add cut vegetables and healthy dips to the spread as well. And don't forget some yummy desserts!
Tell the Team to Clean Up
Asking your guests to vacuum the family room is a no-no, but you could encourage everyone to throw their own plates into the garbage.  It might take a bit of teamwork on everyone's part, but it will be a huge help to you. Make sure garbage pails are accessible, and employ subtle hints such as huge signs that say, "Pitch used plates in here!"
Here are a few super recipes to help make your game day party a culinary success!