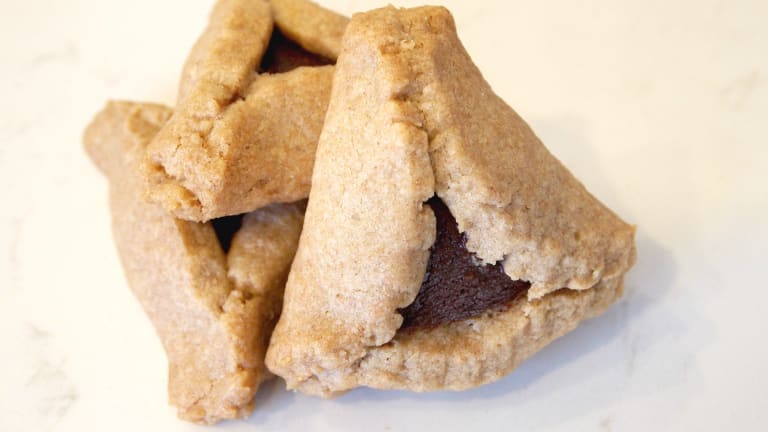 Healthy Hamantashen and Mishloach Manot
Purim is one of my favorite Jewish holidays.  My children are counting the days, this year a few extra (thanks to the Jewish leap year), because they know that on Purim, I look the other way as bags and boxes of sweets and treats pile up outside our door.  I make the conscious choice to be a practical mom, rather than a determined dietitian, but I do try to include some healthy choices in the gifts I give to others.
If your mishloach manot basket looks like it was sponsored by Hershey's, perhaps you may want to try something different this year?   We take time contemplating our costumes, why not our gift baskets?
We are obligated to give at least two foods to at least one person.  While time and budget often dictate our choices, and there never seems to be enough of either, here are a few healthy and kosher substitutions that the kids may even thank you for…
Use whole wheat flour, instead of white flour (white whole wheat or spelt flour is less noticeable).
Use dark chocolate with a high cacao content, over 70%.
Replace some junk food with some toys, sports cards, or comic books, you only need 2 foods.
I love the idea of building mishloach manot baskets around a theme.  It gives me some focus and can get really fun.  I am no Martha Stewart, so my friends know better than to expect award-winning craftsmanship, but I try to get points for creativity!  Below you can find some of my favorite themes:
Taste of Israel - Olives, Hummus, Whole Wheat Pita Chips, Zaatar
Spa Surprise - Herbal Tea, Greek Yogurt, Apple Chips and Granola
Coffee Lovers – Fresh Ground Coffee (maybe a spiced homemade blend), Flavored Creamers, Dark Chocolate Covered Espresso Beans
Happy Hour – Mixed Nuts, Light Beer, Whole Grain Pretzels
Roman Holiday – Whole Wheat Pasta, Sauce, Biscotti
Movie Night Light – Air Popped Seasoned Popcorn, Terra Chips, Dried Fruit
Marley Manot - Tropical Fruit Salad, Mini-Bar Imported Rum, Jamaican/Caribbean Spice Rub
PB&J –Natural Peanut Butter, All-Fruit Preserves, Whole Grain Bread
Very Veggie – Vegetable Snack Chips, Low-Calorie Dip, Edamame
Lower East Side – Whole Wheat Bagels with Low-Fat Cream Cheese and Packaged Lox
My 2 favorite healthier hamantaschen are Whole Wheat Pumpkin and Spelt Halva, but I have an even healthier version on our Fresh Families meal plan, join now to get more of my favorite recipes with nutrition information and weekly menus with shopping lists.
In addition to themes you can simply just make some good portable food.  Noodle salads, healthy baked goods, homemade salad dressings all make delicious edible gifts for Purim.  Browse below for healthy portable foods that make perfect edible gifts. 
17 Healthier Mishloach Manot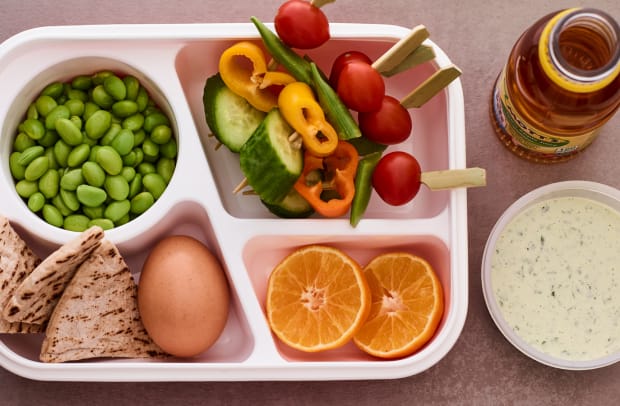 Need an accompaniment? Pair them with a bottle of these refreshing flavored waters. 
Let me know your favorite healthy Purim ideas in the comments below.